Michael Zieba Custom "memento mori" Etched KOI Balisong Knife, Bronze Skulls Spacers (SOLD)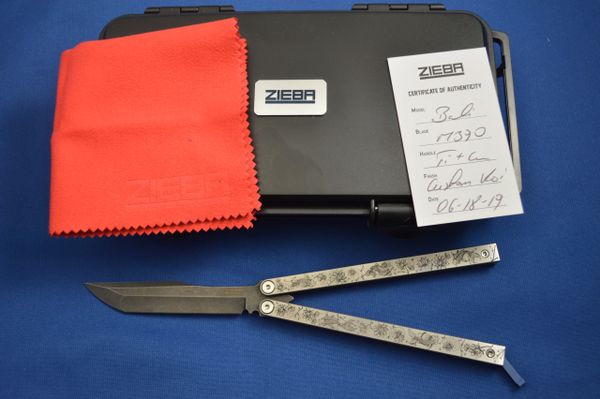 Michael Zieba Custom "memento mori" Etched KOI Balisong Knife, Bronze Skulls Spacers (SOLD)
This is Michael Zieba's custom "memento mori" Balisong / Butterfly Knife.  It features an acid washed, harpoon-shaped blade, with a compound grind and Tanto cutting edge, made of Bohler M390 stainless steel.  The titanium frame is etched with Michael's "Koi" pattern of fish and flora, and anodized blue on the edges and inside the handle.  Fitted into the rear of either side of the handle are a series of Bronze Skulls spacers, with blue accents.  These are visible on the outside of the handle when closed, and flip to the inside when opened.  On the opposite side of each spacer is a solitary Bronze Skull, and the words "memento mori" (memento on one side and mori on the other).  The knife is perfectly balanced, and the blade flips effortlessly, running on ceramic bearings.  The knife's locking mechanism is an anodized blue latch, and there is no pocket clip.  Michael's fit and finish are second to none.  This knife is previously owned, and in new / mint condition.  The knife comes in a Zieba hard plastic clamshell case, along with Michael's signed Certificate of Authenticity and red polishing cloth.
Condition:  Previously owned.  New.  Mint.
                  Never used, carried or sharpened
Overall length:   9"




Blade length:      4"




Closed length:    5"