Michael Zieba Full Size S4 "Angry Bird" Frame-Lock Flipper (SOLD)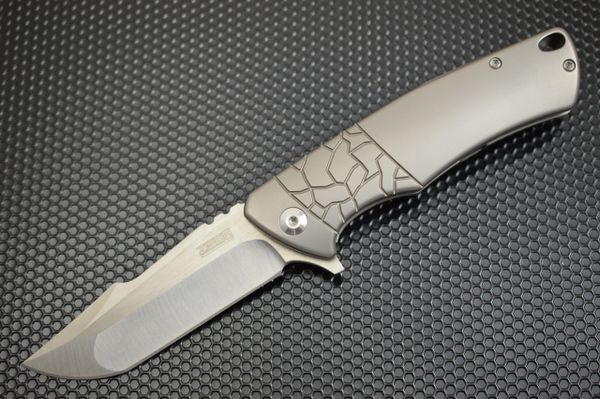 Michael Zieba Full Size S4 "Angry Bird" Frame-Lock Flipper (SOLD)
This is Michael Zieba's model S4 Angry Bird frame-lock flipper.  It is in new condition, having been acquired from Michael at the 2017 ICCE Show, and stored since.  It features an aggressive multi-grind, harpoon-shaped blade made from AEB-L steel.  The blade flips effortlessly without any wrist action, credited to the Caged Internal Bearing System.  It locks up tight with no blade play, the lock releases easily with no evidence of lock stick, and the blade sits centered in the frame when closed.  The handle / frame is full titanium, with a stonewashed finish.  The frame-lock incorporates a hardened steel, replaceable lock face.  The nearly full length backspacer adds strength to the frame, and it extends just above the frame to aid in grip retention.  The Angry Bird skull clip with Red eyes (screws) is titanium, with a black matte nickel finish.  The pocket clip affords deep pocket carry.  Michael's fit and finish is second to none.  It will ship in the leather Angry Bird padded, zippered case provided by Michael.
Condition:  Previously owned. Near mint.
                   Never used, carried or sharpened.
Overall length:   8 1/4"




Blade length:     3 1/2"




Closed length:   4 3/4"