Michael Zieba MS3, Manhattan Special Frame-Lock Flipper, Damasteel Blade (SOLD)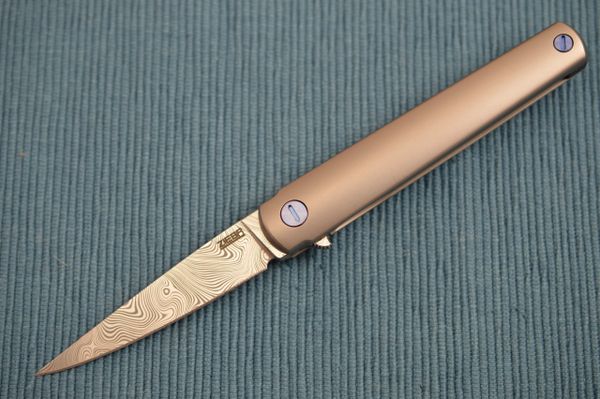 Michael Zieba MS3, Manhattan Special Frame-Lock Flipper, Damasteel Blade (SOLD)
This is Michael Zieba's MS3, Manhattan Special, a classy gentleman's flipper.  It features a razor sharp, flat ground, drop point, mirror polished and acid etched Damasteel blade.  The blade runs on ceramic bearings, has a firm detent, and flips strong and fast.  The contoured frame-lock handle is full titanium, with a blasted finish.  Some of the inside of the frame has been hollowed out, to make it more lightweight than earlier versions, and easy to carry.  The frame-lock incorporates a replaceable lockbar insert, that prevents overtravel.  The backspacer is carbon fiber, and the tip-up mounted pocket clip is blasted titanium.  The pivot screws and hardware are anodized blue titanium.  The knife has a solid lock-up, no lock-stick, and the blade sits dead centered in the frame.  Michael's fit and finish is second to none.  This knife is previously owned, and all I can find is a faint rub on the frame, just below the tip of the pocket clip, that you might catch a glimpse of, on the lock side photo.  The knife will come in a generic case.
Condition:  Previously owned.  Excellent
                  Never used, carried, or sharpened
Overall length:    6 1/2"




Blade length:      2 3/4"




Closed length:    3 3/4"