Michael Zieba MS3, Manhattan Special Gentleman's Frame-Lock Flipper (SOLD)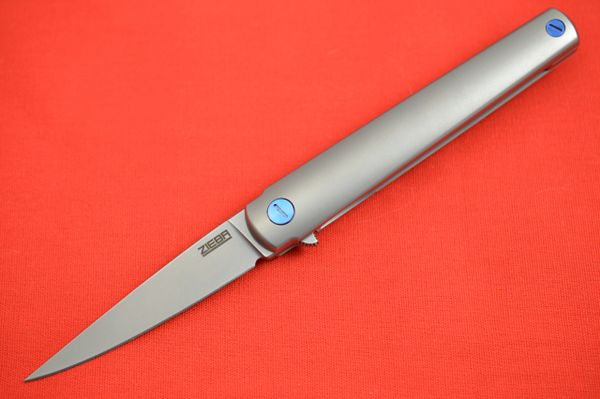 Michael Zieba MS3, Manhattan Special Gentleman's Frame-Lock Flipper (SOLD)
This is Michael Zieba's MS3, Manhattan Special, a classy gentleman's flipper.  It features a razor sharp, flat ground, drop point, M390 stainless steel blade.  The blade runs on ceramic bearings, has a firm detent, and flips fast, with authority.  The contoured frame-lock handle is full titanium, with a blasted finish.  Some of the inside of the frame has been hollowed out, to make it more lightweight than earlier versions, and easy to carry.  The frame-lock incorporates a replaceable lockbar insert, that prevents overtravel.  The backspacer is titanium with file-work, and the tip-up mounted pocket clip is also blasted titanium.  The pivot screws and hardware are all anodized blue titanium.  Michael has even put a little file-work on the flipper tab to help ensure a positive tactile feel when flipping the blade.  The knife has a solid lock-up, no lock-stick, and the blade sits dead center in the frame.  Michael's fit and finish is second to none.  This knife is previously owned, and in brand new condition.  Included with the knife are a Zieba padded zippered case and Michael's signed Certificate of Authenticity.
Condition:  Previously owned.  New.  Mint.
                  Never used, carried, or sharpened
Overall length:    6 1/2"




Blade length:      2 3/4"




Closed length:    3 3/4"