Michael Zieba S7 Nitro-V, Marble Carbon Fiber & Vintage Bronze, Silver Skulls Backspacer (SOLD)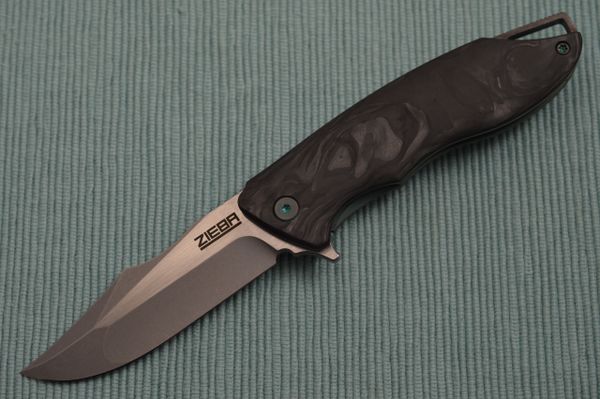 Michael Zieba S7 Nitro-V, Marble Carbon Fiber & Vintage Bronze, Silver Skulls Backspacer (SOLD)
This is Michael Zieba's model S-7 frame-lock flipper.  It features an aggressive compound ground, harpoon-shaped clip point blade made of Nitro-V steel.  The blade is stonewashed, and the flat has a satin finish.  The blade flips effortlessly without any wrist action, credited to the caged internal bearing system.  The handle / frame is marble carbon fiber on the presentation side overlaying a vintage bronze / green anodized titanium liner.  The lock side is also vintage bronze / green anodized titanium.  The real kicker on the knife is the custom cast backspacer with Michael's original skull spacer design.   Hidden in the backspacer / lanyard extension are three (3) of Michael's signature skulls.  These skulls are Pure Silver (noted on the COA), and will likely develop an awesome patina over time.  The knife has excellent detent, rock solid lock-up, no lock-stick, and the blade sits dead center in the frame.  Michael's fit and finish are second to none.  This knife is previously owned, and in new condition.  The knife comes in a Zieba padded, zippered case, along with Michael's signed Certificate of Authenticity and red polishing cloth still in the plastic bag.
Condition:  Previously owned.  New.
                  Never used, carried or sharpened
Overall length:   7"




Blade length:      3"




Closed length:    4"