Microtech A. Marfione / D.C. Munroe SIGIL, Apocalyptic Elmax (SOLD)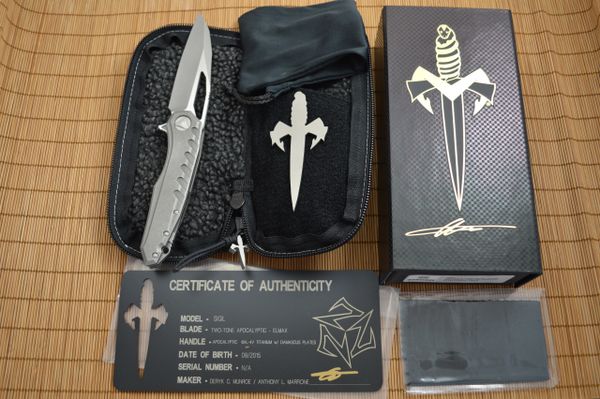 Microtech A. Marfione / D.C. Munroe SIGIL, Apocalyptic Elmax (SOLD)
Deryk Munroe has been producing some of the most innovative and in-demand knives for quite some time.  D.C. Munroe has teamed up with Anthony Marfione, Founder of Microtech, to bring you a custom collaboration that was introduced in 2015 - the SIGIL.  This knife is modeled after the original Munroe SIGIL.  This is a highly innovative flipper from D.C., with a Microtech influence.  This is a highly sought-after knife, perfect for EDC, and begging to be carried (or collected).
This knife is NEW in the original Microtech box.  Inside the box is the SIGIL, drawstring pouch, unused / unopened cleaning cloth, Microtech zippered ballistic pouch, metal Microtech logo, and metal COA plate.  The knife is a frame-lock flipper running on ceramic bearings, making deployment smooth and effortless.  The blade is two-tone Apocalyptic Bohler Elmax.  The handle is Apocalyptic 6AL-4V Titanium with Damascus Plate.  The plate serves as an over-travel stop for the lock bar.  The knife was born 09/2015.  It also features a unique, spring-loaded, patent pending design, that sits recessed into the contours of the handle when not in use.  There is also an integrated lanyard hole in the backspacer.  The frame-lock holds the blade open rock solid - no movement whatsoever, and the blade is seated perfectly centered in the handle when closed.


Condition:  NEW!  MINT!

Overall length:  8"
Blade length:    3 1/2"
Closed length:  4 1/2"