Mike Dilluvio Mammoth Ivory and Damascus Liner Lock 6.25" Folder (SOLD)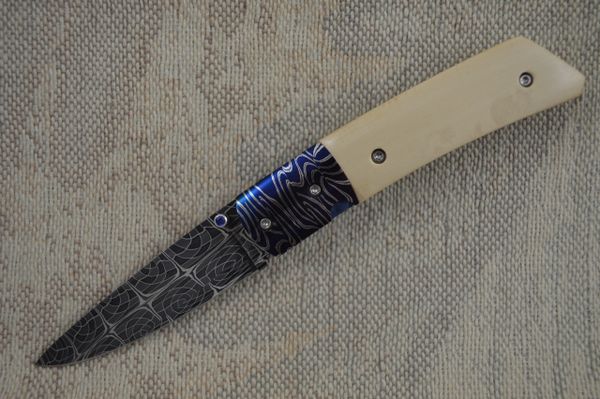 Mike Dilluvio Mammoth Ivory and Damascus Liner Lock 6.25" Folder (SOLD)
An outstanding Mike Dilluvio Gentleman's liner lock folder. It features a Robert Eggerling Damascus blade, Robert Eggerling Mosaic Damascus bolsters colored dark blue, Titanium liners anodized blue, and file-work all around after anodizing. The handle material is creamy Mammoth Ivory imported from Russia from 50,000 year old frozen remains. These scales are cut from the interior of the tusks, so you won't find any cracks, chips or defects. This stuff is risky and costly to work with - one wrong move and a piece might have to be scrapped. However, there is nothing like it. It is highly sought after by makers and collectors. Mike also added a blue sapphire thumbstud set in 18k white gold for the thumbstud. The blade locks up tight with no movement, and sits centered in the liners. Mike's fit and finish is exceptional. A complete and classy package!
Condition:
New From Maker
Overall length: 6 1/4"

Blade length: 2 3/4"

Closed length: 3 5/8"

DISCLAIMER:
Mammoth ivory is a natural material, and subject to environmental and storage conditions. It's appearance may change with time and exposure to ambient air (humidity and temperature). IT MUST NOT GET WET. If it does, clean and dry it immediately. Once a piece with this material leaves our store, there is no way to guarantee it's future condition. It will always be packed securely and protected from the elements. If the scales ever do get damaged, Mike can replace them for a fee.