Mike Franklin HAWG Knives Folding Liner Lock Knife, Blacked Out (SOLD)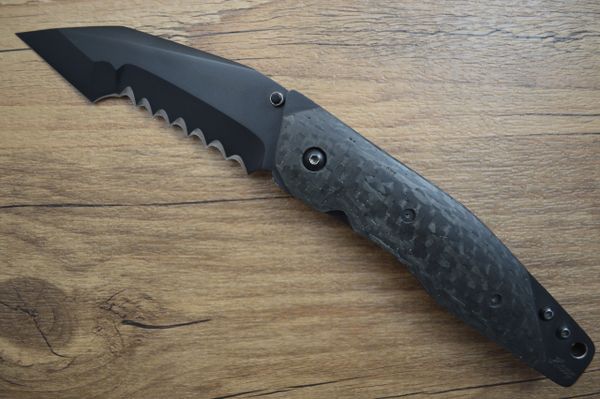 Mike Franklin HAWG Knives Folding Liner Lock Knife, Blacked Out (SOLD)
This knife was acquired from the original owner, who purchased it directly from Mike Franklin at the 1997 Guild Show. We were told that it had been briefly carried in a pouch when it was first purchased, and placed in storage since. There is no evidence of wear, use or sharpening on the blade. There are a couple of stray handling marks on the clip. The handle is black carbon fiber, and shows little to no evidence of having been in that pouch. It has Mike's wicked chisel ground blade with a partially serrated, aggressive sawtooth grind. The blade steel is unknown, but it has been "blacked-out", giving the whole knife a very covert, stealthy look. The blade is marked "6-97" on the flat side, and is sterile on the chisel ground side. Mike's signature "Hawg" mark is etched on the rear of handle, near the lanyard hole. Nice smooth action, and the blade locks up tight when opened with no play. The clip is set for tip down carry. It will come in a padded case.
Condition:
Previously owned. Excellent
Never used or sharpened
Overall length: 8 7/8"

Blade length: 4"

Closed length: 5 1/4"