Mike Franklin HAWG Knives "The Big Ugly" Folding Liner Lock Knife (SOLD)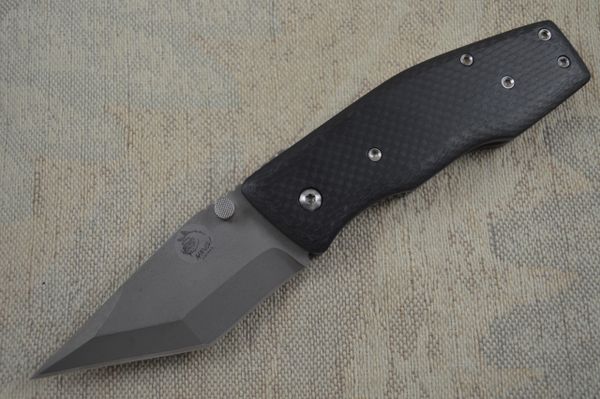 Mike Franklin HAWG Knives "The Big Ugly" Folding Liner Lock Knife (SOLD)
This knife was acquired from the original owner, who purchased it directly from Mike Franklin at the 2001 Guild Show in Orlando, FL. We were told that it had been stored since new, and looks it. There are no signs of wear on the blade or scales. However, there are a couple of stray handling marks that are barely visible on the clip (we suspect from possible infrequent carry). It has a wicked chisel ground blade that comes to a point this as sharp as a needle. The blade steel is unknown. Not sure what Mike's preferred metal was 14 years ago. The blade has Mike's signature HAWG Knives logo with the hog head on one side, and M.H. Franklin and Orlando - 2001 on the opposite side. The handle scales are black carbon fiber. Mike called this knife "The Big Ugly" according to the original owner. We are not sure how many "Uglies" he made, but it is definitely true to the signature knife designs that Mike is known for. It has an over-sized thumb disc, heavily serrated thumb ramp on the blade spine, and solid backspacer made of possibly carbon fiber or G-10 type material. It locks up tight when opened with no blade play. The clip is set for tip down carry. It will come in a padded case.
Condition:
Previously owned. Excellent
Never used or sharpened
Overall length: 8 1/2"

Blade length: 3 3/4"

Closed length: 4 3/4"