Mike Obenauf Large MODEL 2 Liner-Lock Folding Knife (SOLD)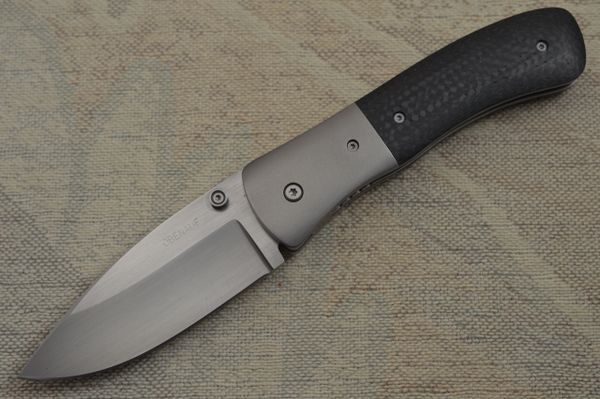 Mike Obenauf Large MODEL 2 Liner-Lock Folding Knife (SOLD)
This is one of Mike's large Model 2 liner-lock folders.  Mike is no longer making knives.  However, when he was making knives, his large models seemed to be more popular with collectors and knife enthusiasts due to the larger blade and chunkier handle.  They do have a certain appeal and feel.  Mike is Kit Carson's son-in-law, and his knives have a very similar style.  So you'll see visual and functional similarities between the two.  Mike's knives exhibit excellent quality and are quite exceptional for their price points, making them a great buy.  The Large Model 2  liner-lock is an excellent example of his ability, and a great collectible that won't be made anymore.
This knife features a titanium frame and liners, with an oversized bolster and carbon fiber scales.  The blade is hand-rubbed S30V, and the backspacer is black G10.  The pocket clip is set for tip-down carry.  There's jimping on the blade spine, and dual thumbstuds.  The knife is in excellent, unused condition.  There are few pinpoint spots on the blade from age / storage.  You have to look for them.  It opens buttery smooth, locks up tight with no play, and the blade sits centered between the liners.  Ships in a padded, zippered case.
Condition:  Previously owned.  Excellent.
                  Never used, carried or sharpened.
Overall length:   8 1/2"




Blade length:     3 1/2"




Closed length:   5"