Mike Ruth, J.S. Bowie, Desert Ironwood, Kenny Rowe Sheath (SOLD)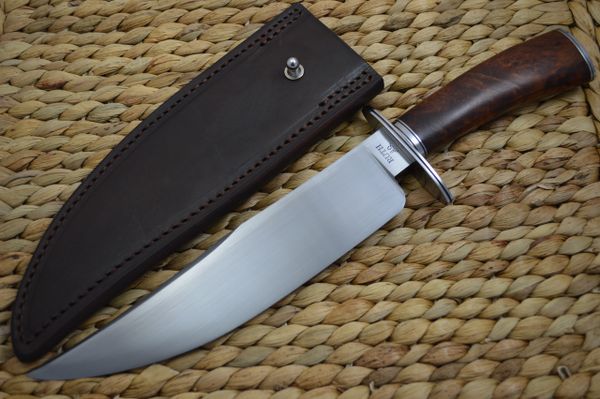 Mike Ruth, J.S. Bowie, Desert Ironwood, Kenny Rowe Sheath (SOLD)
This Mike Ruth Bowie knife is brand new and just received directly from Mike. Mike earned his ABS Journeyman Smith in 2003. Since then he has been building Mastersmith quality knives. This Bowie knife is indicative of Mike's outstanding work, and his attention to design, and fit and finish. Great ergonomics and balance - the perfect combination. Mike forged the blade of 1084 steel. He used 416 stainless steel for the fittings - the bolstered guard and butt cap. And the handle is a beautiful solid piece of stabilized Desert Ironwood with outstanding grain. The knife comes with a Kenny Rowe frog button leather sheath, as well as a ruthknives.com zippered case. This is an outstanding knife - ready to take out in the field, or added to your collection.
Condition:
Brand new from the maker
Overall length: 13 3/4"

Blade length: 8 3/4"