Mike Ruth, J.S. Large Stag Handled Bowie, Civil War Caisson Fittings (SOLD)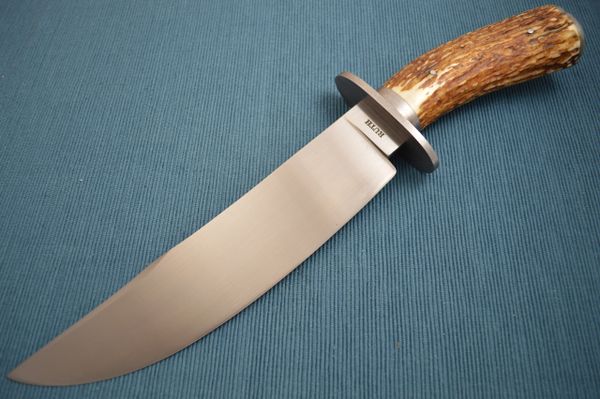 Mike Ruth, J.S. Large Stag Handled Bowie, Civil War Caisson Fittings (SOLD)
Mike Ruth earned his ABS Journeyman Smith in 2003. Since then he has been building Mastersmith quality knives. This Bowie knife is indicative of Mike's outstanding work, and his attention to design, detail, and fit and finish. Great ergonomics and balance - the perfect combination. Mike forged the blade from 5160 steel. All the fittings - the guard, ferrule, and butt cap were forged from a Civil War cannon caisson. And the handle is a beautiful solid piece of thick stag, with outstanding color and texture. It really fills your hand. This is a big knife, weighing in at 1 pound 10 ounces! The knife is in excellent, previously owned condition. It has never been used, carried or sharpened. The blade has been kept wrapped in gun oil, but there are a couple of barely perceptible carbon spots that are too small to photograph. The stag is perfect, and the wrought iron shows a bit of a patina - the rustic look that is indicative of wrought iron. The knife does not comes with a sheath. Mike typically has Kenny Rowe make a sheath for his knives. You will find a link to Kenny's website in our
Favorite Links
. It will come securely packed in a padded, zippered case. This is an outstanding knife - ready to take out in the field, or add to your collection. The attractive price takes into account that there is no sheath.
Condition:
Previously owned. Excellent condition (as noted)
Never used, carried or sharpened
Overall length: 15"

Blade length: 9 1/2"