Mike Williams, M.S. Damascus Bowie, Stag Handle, Kenny Rowe Sheath (SOLD)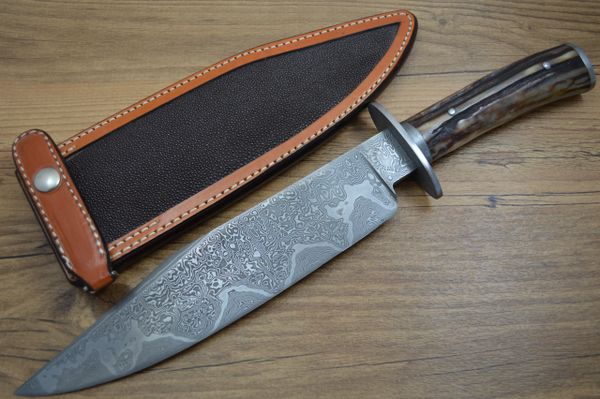 Mike Williams, M.S. Damascus Bowie, Stag Handle, Kenny Rowe Sheath (SOLD)
This Mike Williams Bowie features a 10" pattern-welded Damascus blade, that is 2" wide with an overall length of 15 1/4". The handle is stag, and the guard, ferrule and butt cap are all wrought iron. The most striking feature of the knife is the bold Damascus "rolling wave" pattern which resembles a sine curve on one side, which is reflected out of phase on the other side. This bright broad path of the wave seems to curve up into the clip where it straightens out to form an accent line that visually sharpens the profile of the blade. The pattern above the wave is quite interesting as well – it looks something like a combination "pool and eye" and "rain drop" pattern.
This knife has a real "old timey" feel to it, that is derived primarily from the handle and fittings. The handle is 2 beautifully matched pieces of aged-looking amber stag. It almost looks like one single piece of stag, but it is actually two pieces mortised to fit to the tang. The give away is on the underside of the handle, where you can barely see about two inches of seam where the pieces meet, but on the upper side the seam is utterly invisible to the naked eye. Really a superb job of handle fitment on Mike's part. The wrought iron fittings show the grain and texture characteristic of the material, adding to the antique look and feel that is quite appealing to the eye. The knife has a superb feel in the hand – well balanced and quick for its size. The stag handle provides an extremely comfortable and secure grip. Accompanying the knife is a beautiful Kenny Rowe pin lock leather sheath with ray skin inlay. I have owned this knife in my personal collection since about 2007. I believe it was made in 2004. It has been stored in my safe, coated with oil. It is in "like new" condition. This is is a nice package that would be the focal point of any collection, and a knife that you would be proud to own.
Condition: Previously owned. Excellent condition.
Never used, carried, or sharpened
Overall length: 15 1/4"

Blade length: 10"
Weight: 17.5 ounces