Ogg Custom Knives, Max Burnett "Oggstra Kamper" Fixed Blade (SOLD)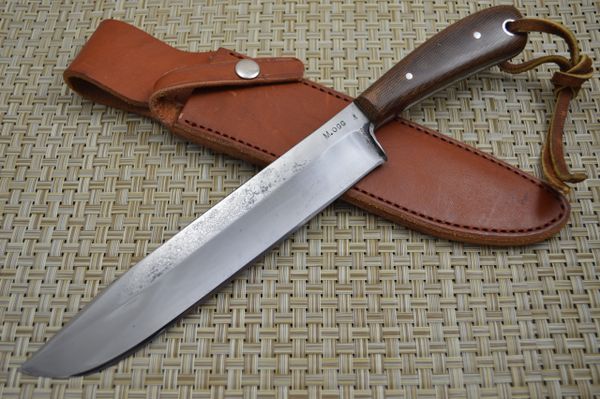 Ogg Custom Knives, Max Burnett "Oggstra Kamper" Fixed Blade (SOLD)
Max Burnett began his knife-making career in December of '94.  He a
pprenticed under his step-dad, Robert Ogg, Master Knife Maker of Ogg Custom Knives.  He started out on folders, and from there learned to make fixed blades.  He was taught the stock removal process of knife making.  He never caught the "bug" for folders.  Fixed blades became his specialty, to this day.  He makes rugged, hard working knives.  After Bob passed away in 1999,
 Max took some time off and then decided in January 2000 to make knives for full-time.  It was at that time he also began forging steel.  Max is completely self-taught.  He guarantees his work for life.  And stands behind everything he crafts.  Bob had taught him
 to keep things simple - high carbon steel and natural materials. His knives are a reflection of Bob's teachings.  They are simple and useful tools meant to last a lifetime.
Max calls this knife the "Oggstra Kamper".  He made variations of this knife, depending upon the individual customer's requests.  It is forged from 1084 steel, with a distally tapered full tang and integral guard.  The handle is Brown Micarta.  He credits the design to Mastersmith Joe Keeslar, from whom he learned to make this style of knife at a hammer-in, in Washington, AR - often referred to "Brut de Forge".
This knife came from the collection of the original owner.  It has been well cared for, stored properly, and is in unused, excellent condition.  It is a beautiful piece, and extremely comfortable in the hand.  Nicely balanced and ready for the campsite.  Comes with the original unmarked sheath.
Condition: 
Previously owned, Excellent condition
                    Never used, carried, or sharpened
Overall length:      12"

Blade length:        8"