Olamic Cutlery BUSKER, Semper M390 Blade, Dark Blasted Titanium Frame (SOLD)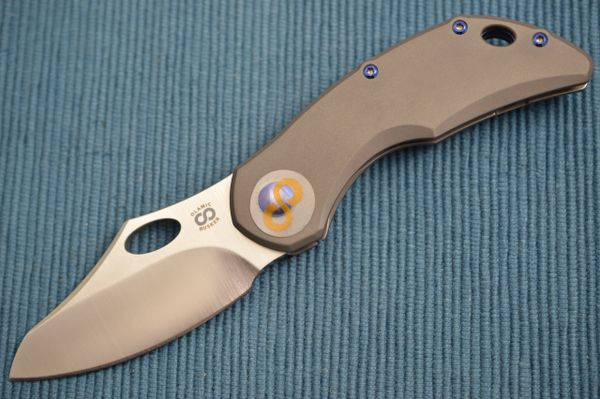 Olamic Cutlery BUSKER, Semper M390 Blade, Dark Blasted Titanium Frame (SOLD)
Olamic Cutlery is a family run business, started in 2010 with the goal of making usable, custom, handmade knives at a fair price - and that's exactly what they have accomplished!  The knives are made from the best materials, and display excellent fit and finish.  Whether you are a collector or a user, they are built to meet your needs.  Windy City Knives is privileged to be a dealer for Olamic, and is proud to offer their knives.
This brand new Busker model is direct from Eugene Solomonik at Olamic Tactical.  A front flipper by design, the knife can be opened at least 10 different ways.  The blade is Bohler's proven M390 steel, satin finished, with the "Semper" profile.  The frame-lock handle is 6AL-4V titanium construction, done in a Dark Blasted finish.  The clip is also titanium, done in the same Dark Blasted finish, with ceramic retention ball.  The floating backspacer, pivot, and hardware are all blued titanium.  The blade runs on caged bearing system with ceramic detent ball.  The Busker also features a stainless lock bar insert with over-travel stop.  Nice detent, solid lock-up, and perfect blade seating.  It comes in a rigid, zippered Olamic Tactical case for storage, along with the Certificate of Authenticity.  Please note that Olamic puts a protective disk over both sides of the pivot to protect it.  These peel off very easily, leaving no residue.
The Busker is the perfect EDC - small, light and discrete.  Easy to drop in your pocket, if you don't want the pocket clip to "show".  For those of you who reside in areas where blade length is a concern, the Busker is for you.  Don't be fooled by its size.  The Busker is a no nonsense folder, ready for any task at hand.
Condition:  Brand New From Maker.
Overall length:  6"

Blade length:    2 3/8" (cutting edge)

Closed length:  3 1/2"