Olamic Cutlery Custom Damascus Neck Knife + Leather Sheath (SOLD)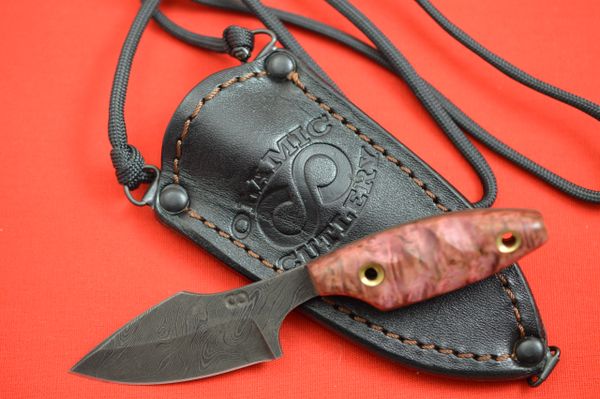 Olamic Cutlery Custom Damascus Neck Knife + Leather Sheath (SOLD)
Olamic Cutlery is a family run business, started in 2010 with the goal of making usable, custom, handmade knives at a fair price - and that's exactly what they have accomplished!  The knives are made from the best materials, and display excellent fit and finish.  Whether you are a collector or a user, they are built to meet your needs.  Windy City Knives is privileged to be a dealer for Olamic, and is proud to offer their knives.
This brand new, fixed blade model, represents Olamic Cutlery's first neck knife, and it was executed as cleanly as their larger hunting knives and folders.  The blade is made from their own specialized high carbon Vanadium Damascus steel, with a vibrant acid etched pattern.  The blade has a drop point profile with a lot of belly, as well as great "self defense" capabilities.  This makes it a very good utility shape, especially in something so compact.  The handle is a comfortable, three finger design with a pronounced index finger groove and thumb ramp, for a secure grip and close quarters work.  The handle is made from milled / carved marble-patterned red G10, which is contoured to fit comfortably in the hand.  There are two brass-lined holes that secure the scales, but could also be used to lash the knife to a stick, making it a spear.  This custom neck knife comes with a nice Italian made black leather sheath with red stitching, that is meant to be carried around the neck.  It is threaded with black Paracord.  This knife is handmade in Russia.
Condition:  Brand New From Maker.
Overall length:  5 1/4"

Blade length:    2 3/4" ( 2 1/4" cutting edge)

Handle length:  2 1/2"