Olamic Cutlery "Hold On Noosely" Lanyard Bead (SOLD OUT)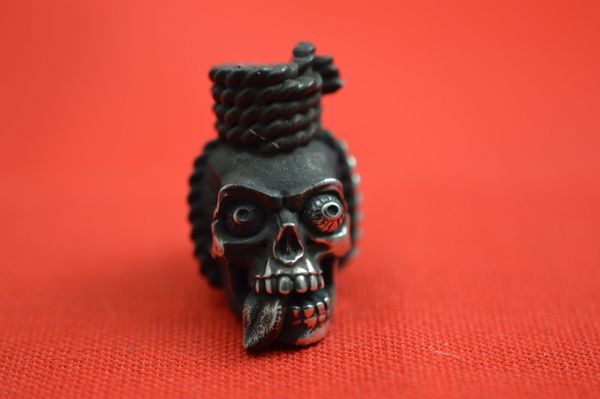 Olamic Cutlery "Hold On Noosely" Lanyard Bead (SOLD OUT)
These Hold on Noosely beads are made by Olamic Tactical. They are the second bead that they have released, after their wildly popular Skullhunter Owl bead. Windy City Knives is privileged to be an authorized dealer for their knives and accessories. Please also check out our great selection of knives currently available. These are a great way to accessorize your favorite knife. They can also be used as a paracord FOB, zipper pull, or anything else you can think of. They can even be used on a bracelet.
They are made from solid pewter, and are highly detailed and intricate, with a partial oxidized finish. The finish will wear somewhat with time, and develop a distressed look. These were made in a limited run of 175 pieces. The hole fits two strands of paracord (not included). Check out the detail - look at the skull, teeth and tongue! All pictures are courtesy of Eugene Solomonik at Olamic Cutlery.
Shipping is FREE by USPS First Class Mail.
Condition: Brand new from the maker
Approximate dimensions are:
Height: 0.98" (24.89 mm)
Width: 0.61" (15.49 mm)
Depth: 0.66" (16.76 mm)
Weight: 0.41 ounces
Hole Diameter: 0.22" (5.59 mm)