Olamic Cutlery Rainmaker, White G10 Scales, Orange Peel Zirconium Bolsters (SOLD)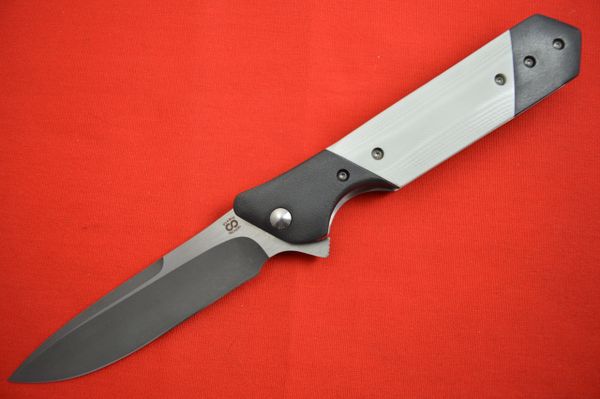 Olamic Cutlery Rainmaker, White G10 Scales, Orange Peel Zirconium Bolsters (SOLD)
Olamic Cutlery is a family run business, started in 2010 with the goal of making usable, custom, handmade knives at a fair price - and that's exactly what they have accomplished! The knives are made from the best materials, and display excellent fit and finish. Whether you are a collector or a user, they are built to meet your needs. The flipping action is smooth as silk, they lock up like a bank vault, and the lock is easy to release. Windy City Knives is privileged to be a dealer for Olamic, and is proud to offer their knives.
Brand New and direct from Eugene Solomonik at Olamic Tactical is this Rainmaker, liner-lock flipper. It is serial number 094, dated 02-27-17. The knife features a two-tone acid washed CTS-XHP blade, white G10 scales, and Zirconium bolsters on the front and rear of the handle. The bolsters have an orange peel finish. The pocket clip is also Zirconium with an orange peel finish. The backbar, like the scales, is white G10. The knife has a very classy, "tuxedo" look to it. The blade runs on caged bearings, and exhibits amazing flipping action - fast, and no wrist action necessary. It has excellent detent, solid lock-up, and perfect blade seating. It comes in a rigid, zippered Olamic Tactical case for storage, and includes a Certificate of Authenticity.
Condition: Brand New From Maker.
Overall length: 9 3/4"

Blade length: 4 1/4"

Closed length: 5 1/2"