Olamic Cutlery SWISH, Kinetic Earth Titanium Frame, Stonewashed Elmax PVD Blade (SOLD)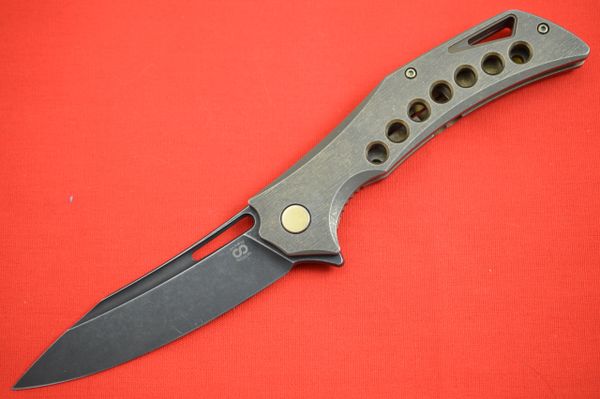 Olamic Cutlery SWISH, Kinetic Earth Titanium Frame, Stonewashed Elmax PVD Blade (SOLD)
Olamic Cutlery is a family run business, started in 2010 with the goal of making usable, custom, handmade knives at a fair price - and that's exactly what they have accomplished!  The knives are made from the best materials, and display excellent fit and finish.  Whether you are a collector or a user, they are built to meet your needs.  The flipping action is smooth as silk, they lock up like a bank vault, and the lock is easy to release.  Windy City Knives is privileged to be a dealer for Olamic, and is proud to offer their knives.
Brand New and direct from Eugene Solomonik at Olamic Tactical is this very unique Swish frame-lock flipper.  The handle / frame is titanium with a Kinetic Earth finish.  IMHO this is one of the classiest finishes they do.  The blade is Elmax steel, with a PVD coated stonewashed finish.  The pocket clip, backspacer / backbar, and bronze anodized hardware are all titanium.  Overall, a very tastefully done Swish, with a very stealthy look.  The blade runs on caged bearings, and exhibits great flipping action - no wrist movement - excellent detent, solid lock-up, and perfect blade seating.  It comes in a rigid, zippered Olamic Tactical case for storage, along with a pivot adjustment tool and Certificate of Authenticity, dated 11/17 and serial #315. I've held this one aside for long enough.  It was meant to be my personal carry, but never made it.  With the recent release of the Swish, this seemed like as good a time as any for someone else to appreciate this never carried, never used and never sharpened beauty.
Condition:  New From Maker
Overall length:  8 3/4"

Blade length:    3 3/4"

Closed length:  5"