Olamic Cutlery SWISH Titanium-Damascus Inlay and Pocket Clip, Sculpted Backbar and Pivots (SOLD)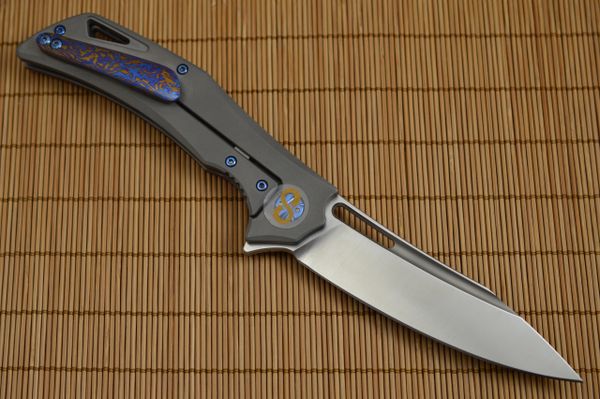 Olamic Cutlery SWISH Titanium-Damascus Inlay and Pocket Clip, Sculpted Backbar and Pivots (SOLD)
Olamic Cutlery is a family run business, started in 2010 with the goal of making usable, custom, handmade knives at a fair price - and that's exactly what they have accomplished! The knives are made from the best materials, and display excellent fit and finish. Whether you are a collector or a user, they are built to meet your needs. The flipping action is smooth as silk, they lock up like a bank vault, and the lock is easy to release. Windy City Knives is privileged to be a dealer for Olamic, and is proud to offer their knives.
Brand New and direct from Eugene Solomonik at Olamic Tactical is this very unique Swish frame-lock flipper. The handle / frame is matte titanium, with a Titanium-Damascus (or Timascus) inlay. Olamic has done a total of only two (2) Swish with Timascus inlays, making this one somewhat rare and special. The blade is Elmax steel, with a satin finish. The pocket clip is 3D Titanium-Damascus, as well. The backspacer / backbar is sculpted multi-colored anodized titanium, looking much like Timascus. The pivots are sculpted, blued titanium. All the hardware is also titanium and anodized blue. Overall, a very tastefully done Swish with some exceptional features that fit well together. The blade runs on caged bearings, and exhibits great flipping action - no wrist movement - excellent detent, solid lock-up, and perfect blade seating. It comes in a rigid, zippered Olamic Tactical case for storage, along with a pivot adjustment tool and Certificate of Authenticity. Please note that Olamic is now putting a protective disk over both sides of the pivot to protect it. These peel off very easily, leaving no residue.
Condition: Brand New From Maker.
• Overall length: 8 3/4"
• Blade length: 3 3/4"
• Closed length: 5"