Olamic Cutlery Voykar HT Damascus Fixed Blade Hunting Knife (SOLD)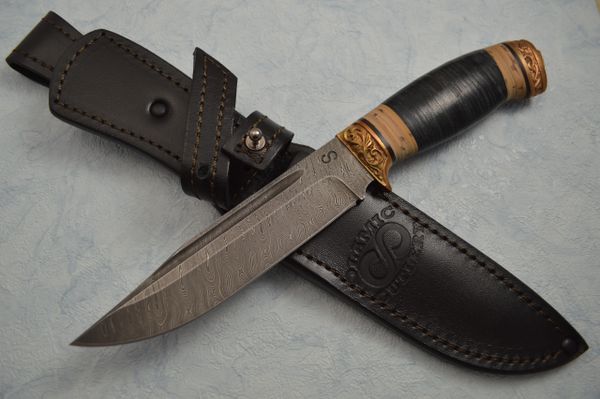 Olamic Cutlery Voykar HT Damascus Fixed Blade Hunting Knife (SOLD)
Olamic Cutlery is a family run business, started in 2010 with the goal of making usable, custom, handmade knives at a fair price - and that's exactly what they have accomplished!  The knives are made from the best materials, and display excellent fit and finish.  Whether you are a collector or a user, they are built to meet your needs.  The flipping action on their folders is smooth as silk, they lock up like a bank vault, and the lock is easy to release.  Their fixed blade Damascus knives are
This is Olamic Cutlery's Voykar HT hunting knife.  It features a High Carbon Vandium Damascus blade, with a fuller running nearly the entire length of the blade.  The handle is stacked leather, with birch bark spacers above and below the leather.  The overall precise balance and ergonomics of the knife make for a secure and positive grip.  It feels instantly at home in your hand.  The guard and butt cap are hand cast bronze, with detailed design work.  The butt cap has an extension for a lanyard.  Each Voykar HT is serialized.  This one is serial number 682.  Included with the knife is a black leather dangler belt sheath, and a padded zippered case.  This knife is the perfect companion for any hunter, fisherman or outdoorsman.  The Voykar is previously owned, and in as-new, mint condition.
Condition: Previously owned. New. Mint. 
                   Never used, carried or sharpened
Overall Length:     11"

Blade Length:        6"

Handle Length:      5"