Olamic Cutlery Wayfarer 247 Sculpted Molten Titanium Hybrid, Anodized Handle, PVD Blade (SOLD)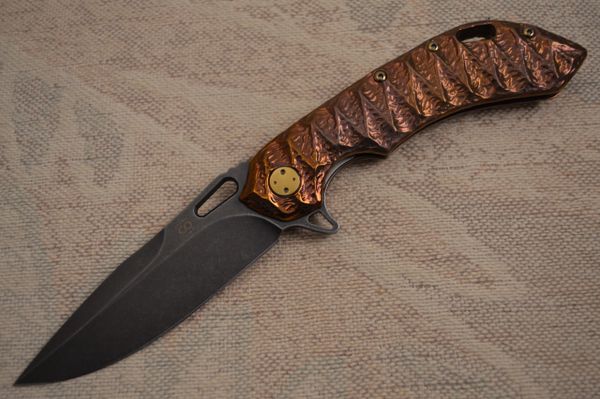 Olamic Cutlery Wayfarer 247 Sculpted Molten Titanium Hybrid, Anodized Handle, PVD Blade (SOLD)
Olamic Cutlery is a family run business, started in 2010 with the goal of making usable, custom, handmade knives at a fair price - and that's exactly what they have accomplished! The knives are made from the best materials, and display excellent fit and finish. Whether you are a collector or a user, they are built to meet your needs. The flipping action is smooth as silk, they lock up like a bank vault, and the lock is easy to release. Windy City Knives is privileged to be a dealer for Olamic, and is proud to offer their knives.
Brand New and direct from Eugene Solomonik at Olamic Tactical is this unique Wayfarer 247 flipper. The hybrid handle is titanium - the presentation side is sculpted, and the clip side is flat - all of it done with a very cool Molten finish. The colors are mesmerizing. The blade is M390 steel, with a PVD stonewashed finish. The clip is titanium, polished and anodized. All the hardware is also titanium and anodized. The backspacer is titanium, with a molten finish, and anodized the same color as the clip. The blade runs on caged bearings, and exhibits great flipping action - no wrist movement - excellent detent, solid lock-up, and perfect blade seating. It comes in a rigid, zippered Olamic Tactical case for storage, along with a pivot adjustment tool and Certificate of Authenticity.
Condition: Brand New From Maker.
• Overall length: 8 1/8"
• Blade length: 3 1/2" (cutting edge)
• Closed length: 4 3/4"