Olamic Cutlery Wayfarer Compact Flipper, Dark Blue C-TEK, Ti Damascus Floating Back Spacer (SOLD)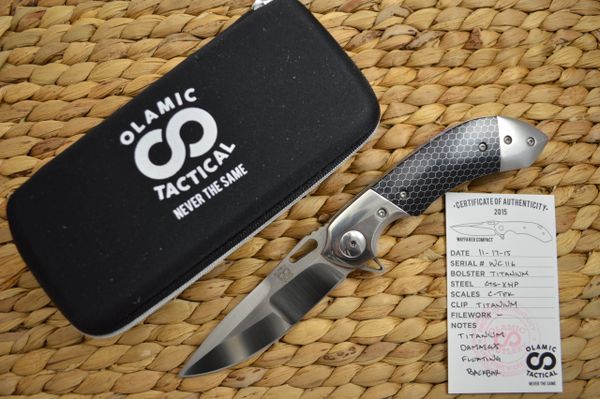 Olamic Cutlery Wayfarer Compact Flipper, Dark Blue C-TEK, Ti Damascus Floating Back Spacer (SOLD)
Brand New and direct from Eugene Solomonik at Olamic Tactical is this custom Wayfarer Compact Flipper. The Wayfarer was designed in collaboration with ABS Mastersmith Michael Vagnino. No two Olamic knives are the same. Each one is unique, and marked with their respective serial number. Every folding knife comes in a rigid zippered Olamic Tactical zippered case for storage, with a Certificate of Authenticity. Olamic Cutlery is a family run business, started in 2010 with the goal of making usable, custom, handmade knives at a fair price - and that's exactly what they have accomplished! The knives are made from the best materials, and display excellent fit and finish. Whether you are a collector or a user, they are built to meet your needs. The flipping action is smooth as silk, they lock up like a bank vault, and the liner-lock is easy to release. Windy City Knives is privileged to be a dealer for Olamic, and is proud to offer their knives.
This liner-lock custom Wayfarer Compact is dated 11-17-15 and Serial No. WC 116. It features a 3.5" satin finished compound grind blade made from CTS-XHP steel, Titanium Bolsters, Dark Blue Honeycomb patterned C-TEK handle scales, hand-sculpted 3D Titanium pocket clip set for tip up carry, Titanium liners, and a unique Titanium Damascus Floating Back Spacer. The blade runs on Caged Bearings and exhibits great flipping action - no wrist movement - nice detent, lock-up and blade seating.
Condition: Brand New From Maker.
• Overall length: 8 1/4"
• Blade length: 3 1/2"
• Closed length: 4 3/4"