ORIGINAL Chris Reeve Handmade SEBENZA, Serial No. H15, Dated 1991 (SOLD)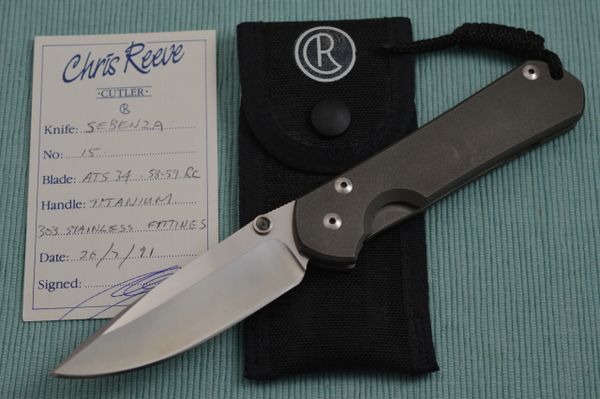 ORIGINAL Chris Reeve Handmade SEBENZA, Serial No. H15, Dated 1991 (SOLD)
This is an extremely rare and very early Chris Reeve Knives (CRK) SEBENZA. It is dated July 26, 1991. This is when Chris Reeve was hand making the knives, and hand grinding the blades himself. There were not many of these made, and today most of them are sitting in collections. This one is stamped "H15" on the handle - "H" for handmade, and 15 is the serial number, The handle frame is titanium, made at the time when Chris was using thick slabs. These are 0.20" thick, much thicker than the today's Sebenza frames. The blade steel is ATS-34 (58 - 59 RC), and the fittings are all 303 stainless steel.
The knife will come in a padded zippered case. Included is the original Chris Reeve "birthday card" / COA, and an original CRK snap button pouch. The knife is previously owned, and in excellent condition. It was never used, carried or sharpened. It has been stored for the past 27 years. The blade is pristine, and the frame has a couple of faint handling marks. The original owner contacted Anne Reeve to inquire about a "spa treatment", but her recommendation was to leave it "as-is". Her feeling was that cleaning it would detract from its desirability and value. This one is a true survivor. You are not likely to find another one any time soon. The lock-up is rock solid, and the blade centered. This piece of Chris Reeve Knives history won't hang around long.
Condition:
Previously owned. Excellent.
Never used, carried or sharpened
Overall Length: 8 1/2"

Blade Length: 3 3/4"

Closed Length: 4 3/4"