ORIGINAL Rick Hinderer Custom FIRETAC, Bronze Anodized, Cocobolo Inlay (SOLD)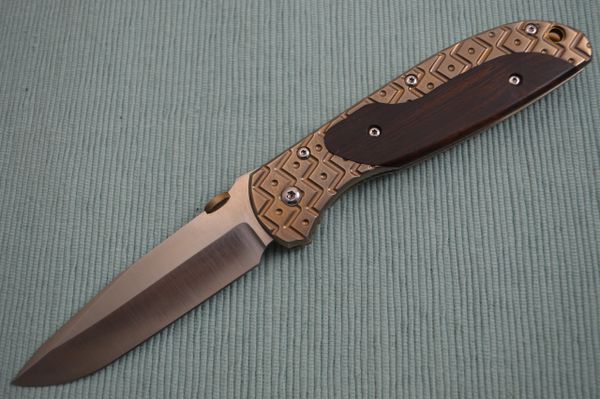 ORIGINAL Rick Hinderer Custom FIRETAC, Bronze Anodized, Cocobolo Inlay (SOLD)
This custom, hand-ground Firetac is one of Rick's early frame-lock models from the late 1990's.  Rick recently decided to re-make the Firetac, and just introduced it in an "updated" version at this year's 2017 Blade Show in Atlanta.  We also have a new Firetac currently available

HERE

.  If you compare the two knives you will see many similarities, however there are a few differences that stand out.  The original thumb disk has been replaced with dual thumbstuds, the Lock Bar Stabilizer on the original has the "Hinderer" name stamped on it, the pocket clips are different styles, the style of pivot and pins have changed, and there are more and different types of jimping on the lock release and blade spine.  Although these knives are 20 years apart in age, you can definitely see why Rick re-introduced this model.  This is a great piece of Rick's 30 year history in the knifemaking business.  Don't miss this opportunity to own it - or both!




This Firetac features a hand ground, satin finished, drop point blade, and a bronze anodized titanium handle, carved with a great "zig-zag" and "dot" pattern handle, with a Cocobolo wood inlay on the presentation side.  It has a thumb disk, and bronze anodized titanium pocket clip currently set for tip up carry - although the clip can easily be reversed for tip down carry.  This a manual knife, made long before we were all hung up on whether the blade runs on washers or bearings.  It requires your thumb to open it through the entire range of motion, and your thumb and / or forefinger to close it.  And yet the blade action is buttery smooth and authoritative.  The lock-up is rock solid, and the blade sits perfectly centered in the frame when closed.  It also has a couple of flow-through barrel spacers.  This one comes in a padded, zippered case.

Condition:  Previously owned. Near Mint.
                    Never used, carried or sharpened.
Overall length:  8 1/4"

Blade length:    3 1/2"

Closed length:  4 3/4"