Philip Booth Custom Lever Auto Liner-Lock Folding Knife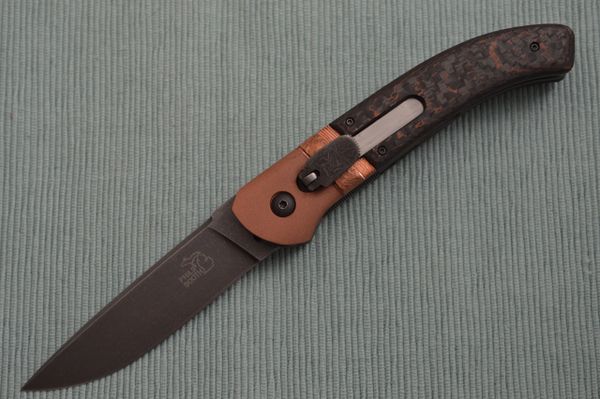 Philip Booth Custom Lever Auto Liner-Lock Folding Knife
Philip comes to knifemaking through the fine arts.  He is an award winning painter, printmaker and knifemaker.  At 10 years old he made his first knife by hammering a 16 penny spike and wrapping the handle with tape.  Not much of a knife but at 10 years, a huge accomplishment.  Philip sold his first knife in 1991 and is now a full-time maker and voting member of The Knifemakers' Guild.  All the knives are made entirely by hand using the metal reduction methods on a one-at-a-time basis.  This gives the maker ultimate control and makes each knife unique.  Materials for each knife are laid out before each knife is begun, much like a painter laying out his pallet.  Knives can be designed around a particular piece of pearl or ivory, and many take advantage of a certain pattern in the Damascus steel.  In this way close attention can be paid to pattern, texture and color.

This folding knife is a Philip Booth lever auto with a liner-lock.  The knife was modeled after a "Leverletto", a design which incorporates the style of a classic Italian stiletto with the release of a lever lock knife.  The blade is CPM-154 stainless steel with a uniform dark blasted finish.  The handle is copper infused carbon fiber scales, with copper bolster and titanium liners.  The lever release and tip-up mounted pocket clip appear to both be Damascus.  There's jimping on both the blade spine, as well as the backspacer, for enhanced grip and control in-hand.
I just received this knife from Phil, after a tune-up and spa treatment.  The blade fires strong and fast.  It locks up tight and with authority.  The liner-lock release is a bit sticky, but I assume that will ease with time and use.  To close the blade requires some pressure, but that's due to the strength of the spring Phil used.  It "clicks" into place solidly between the liners, and is perfectly centered.  Comes in a padded, zippered case.
Condition:  One previous owner. Mint Condition.
                  Never carried, used or sharpened.
Overall length:  8 1/2"




Blade length:    3 1/2"




Closed length:  5"