Philip Booth Scale Release Minnow (SOLD)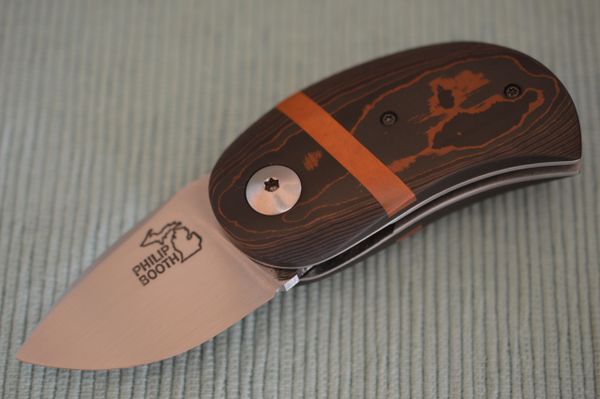 Philip Booth Scale Release Minnow (SOLD)
Philip comes to knifemaking through the fine arts.  He is an award winning painter, printmaker and knifemaker.  At 10 years old he made his first knife by hammering a 16 penny spike and wrapping the handle with tape.  Not much of a knife but at 10 years, a huge accomplishment.  Philip sold his first knife in 1991 and is now a full-time maker and voting member of The Knifemakers' Guild.  All the knives are made entirely by hand using the metal reduction methods on a one-at-a-time basis.  This gives the maker ultimate control and makes each knife unique.  Materials for each knife are laid out before each knife is begun, much like a painter laying out his pallet.  Knives can be designed around a particular piece of pearl or ivory, and many take advantage of a certain pattern in the Damascus steel.  In this way close attention can be paid to pattern, texture and color.

This is a signature Phil Booth Minnow.  It is a scale release that opens by gently sliding the rear of the presentation side scale towards the blade.  Closing the blade uses the same mechanism.  The blade is CPM-154 stainless steel.  The scales are metallic copper carbon fiber, with an inlaid copper strip on both sides of the handle.  Phil has placed some file-work on the backspacer, which happens to coincide with the location of the scale release.  Deep ride pocket clip is set for tip up carry.
The blade has nice action, locks up tight and is centered in the handle when closed.  Comes in a padded, zippered case with a small piece of Scotch Brite, in case you want to clean up the patina on the copper inlays.
Condition:  One previous owner. Near mint condition.
                  Never carried, used or sharpened.
Overall length:  4"




Blade length:    1 3/4"




Closed length:  2 1/4"