Pohan Leu "Negligence" Frame-Lock Flipper, Thunderstorm Kevlar, Zirconium Bolster & Clip (SOLD)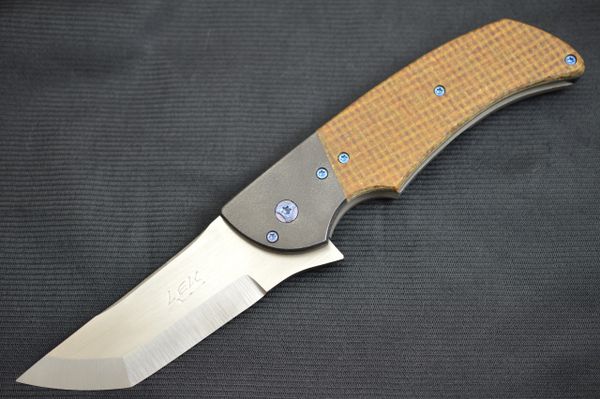 Pohan Leu "Negligence" Frame-Lock Flipper, Thunderstorm Kevlar, Zirconium Bolster & Clip (SOLD)
This Pohan Leu custom Negligence frame-lock flipper is another great example of his work.  Pohan's knives are beautifully designed, simple in their functionality, and clearly demonstrate his abilities.  The ergonomics are outstanding, and match wonderfully with the sweeping shape of the blade.  The tanto-shaped blade is CPM-S35VN stainless steel, with a hand-rubbed satin finish and zero edge blade grind.  His lines are crisp and precise.  The blade rides smoothly on caged bearings, and flips super fast.  Pohan has mastered the detent of the knife, as demonstrated by the swift, authoritative action of the blade deployment.  The titanium handle has a beautiful presentation scale made from Thunderstorm Kevlar, with an orange peel textured Zirconium bolster.  The frame-lock side is stonewashed titanium, the backspacer is carbon fiber, and the pocket clip is also orange peel textured Zirconium.  The pivot and screws are all anodized blue.  Pohan has also milled the area around the lock, to make it comfortable and effortless to disengage the bar.
The blade locks up early and tight with no blade play.  The blade sits centered in the frame when closed.  A great example of the quality of Pohan's work.  Comes in a padded, zippered case.

Condition:  Previously owned. Mint.
                    Never used, carried, or sharpened.
Overall length:  8 3/4"

Blade length:     3 1/2"

Closed length:   5 1/4"