Ralph Turnbull "Special" Raindrop Damascus Lock Back Folder (SOLD)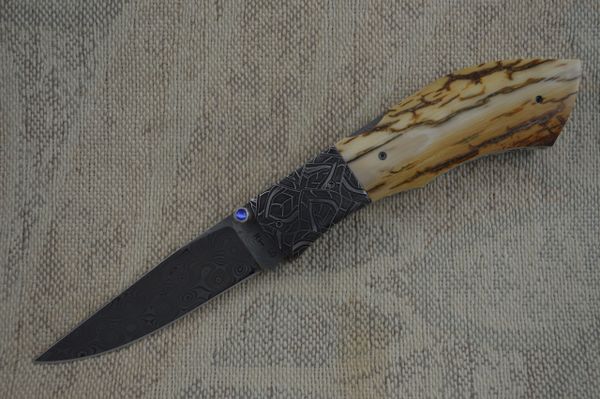 Ralph Turnbull "Special" Raindrop Damascus Lock Back Folder (SOLD)
Ralph Turnbull has been a member of the Knifemakers Guild since 1978.  His knives are a work of art.  Ralph makes knives from only the finest materials and construction.  Hold one of his knives and you will feel the quality, and readily see the fit and finish he is known for.
This knife is one of Ralph Turnbull's "RT Specials" or "RT S" (marked on the tang).  This is a lock back folder featuring two beautifully matched thick scales of creamy fossilized natural material, titanium liners with vine file-work running the entire perimeter of the handle (except for the small section for the lock release), Sapphire thumbstud, Raindrop Damascus blade, and Mosaic Damascus bolsters.  The blade locks open with a loud snap - no blade play or wobble.  The blade sits just about center when closed.  This knife is the total package from Ralph.  It is tastefully done, and beautifully executed.
Condition:
  Previously owned. Mint.
                    Never carried, used, or sharpened.
Overall length:  7 1/4"

Blade length:    3 1/4"

Closed length:  4"