Raphaël Durand "Slack" Slip-Joint, Amber Jigged Bone, 2018 Blade Show (SOLD)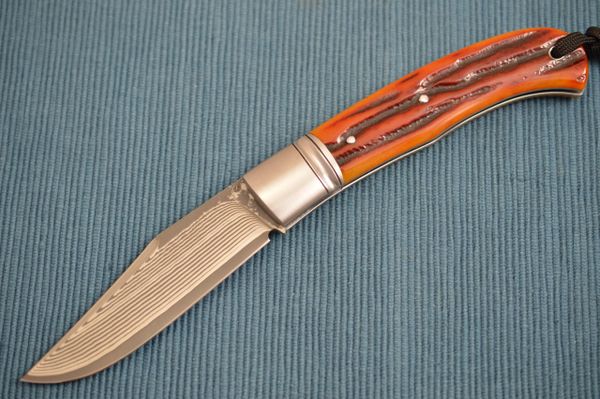 Raphaël Durand "Slack" Slip-Joint, Amber Jigged Bone, 2018 Blade Show (SOLD)
Raphaël Durand's home and shop is in Thiers, France, in what is known as the valley of factories, on the site of Etablissement Chabanel, a unique place on the banks of La Durolle River.  The area is going through a revitalization,  inspired by past activities on the site.  The reclamation of this industrial wasteland, and its rehabilitation is fast paced, with an eye towards cutlery.  Raphaël makes some of the finest slip-joints and lock-back folding knives, available anywhere.  From raw materials to the meticulous construction and assembly, it is all about the finished knife.  He is able to transform this "tool" into a daily essential companion that is not only functional, but a pleasing to see and hold.  His fit and finish is second to none, each knife having incredible detail.  
This SLACK slip-joint is brand new and direct from Raphaël Durand at the 2018 Blade Show.  The blade is Suminagashi Takefu Damascus Steel, 23-layer laminated Japanese Carbon Steel, with a SGP II Core.  The spring, liners, and bolster are Z40 C13 stainless steel.  The bolster has been beautifully fluted, with shadow lines above and below.  The scales are gorgeous amber jigged bone.  Raphaël has added a lined lanyard hole with a braided lanyard included.  The knife comes with an Ostrich sheath, with snap closure and stainless belt clip, made by Raphaël's wife.  She does excellent work - the perfect pouch to compliment the knife.
The knife functions flawlessly.  There is no nail nick, but Raphaël has given you plenty of blade to pull on.  There is no half-stop.  The blade has a very firm pull when opening, and feels "stiff" to close.  Raphaël told me that this is by design, so that it is very difficult for the knife to close on you when you don't want it to.  The blade does lock up tight, and it sits dead center between the liners when closed.  It is rock solid.  And extremely sharp!
Condition:
  New from the maker
Overall length:  8 1/8"

Blade length:    3 1/2"

Closed length:  4 5/8"