Ray Cover Fixed Blade Fighting Knife, Presentation Grade Crown Stag Handle (SOLD)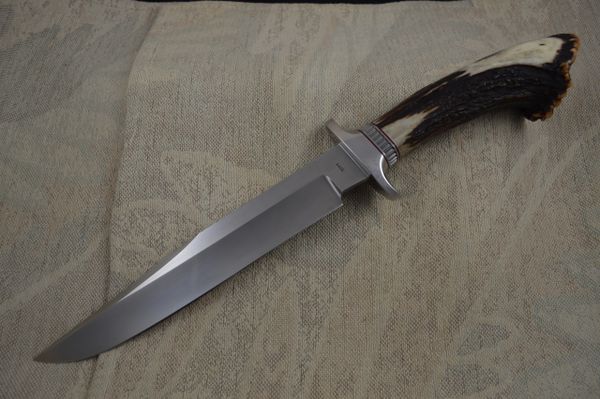 Ray Cover Fixed Blade Fighting Knife, Presentation Grade Crown Stag Handle (SOLD)
Ray Cover is best known for his flawless design and execution of the slip-joint folding knife. His fit and finish, no matter what he crafts, is perfect. He is a master knifemaker who's work is highly coveted by collectors. He does not make many fixed blade knives, but when he does they are exceptional. This fighter is no exception. It would feel at home sitting in a collection, or out hunting.

This fixed blade knife is in absolutely amazing condition. I dare say it is in mint condition - not a mark on it. The presentation grade crown stag handle is flawless - not a chip, crack or imperfection anywhere. It is a gnarly, thick chunk of stag that curves and fits comfortably in your hand. It makes this 19.2 ounce monster feel just right. The crown of the stag is a whopping 2 1/4" in diameter! The blade is made from 440C stainless steel (top edge is not sharpened), and the double sided guard is nickel silver. There is not a mark on either. Ray has done an outstanding job and added a fluted collar bordered by red spacers, at the neck of the stag. It gives the knife an overall great look. It comes with Ray's snap button leather belt sheath. This is a great piece for the collector, and a rare Ray Cover Sr. knife.
Condition: Previously owned. Mint.
Never used, carried, or sharpened
Overall length: 15 1/4"

Blade length: 9 1/4"

Stag length: 5 1/2" (the guard and collar are 3/4")