Ray Cover Mother of Pearl, Slip-Joint Folding Knife (SOLD)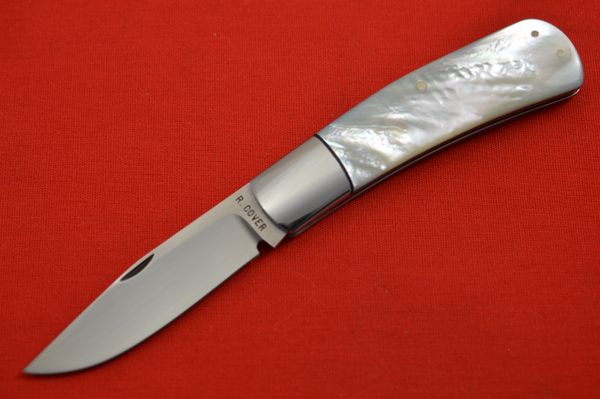 Ray Cover Mother of Pearl, Slip-Joint Folding Knife (SOLD)
Ray Cover is best known for his flawless design and execution of the slip-joint folding knife.  His fit and finish, no matter what he crafts, is perfect.  He is a master knifemaker who's work is highly regarded, and coveted by collectors.

This Ray Cover slip-joint folding knife is in near mint condition.  It has never been used, carried, or sharpened.  I'm only calling it "near" because it was previously owned, and under a microscope there may be a micro scratch or two, although I cannot find one.  It was acquired from the collection of the original owner, who purchased it directly from Ray.  It has only been handled and admired.  The blade is made from ATS-34 stainless steel with a satin finish, and the front bolsters are nickel silver.  The handle scales are 2 nicely matched and fiery pieces of Mother of Pearl - the good old stuff - that are in excellent condition.  The knife features a half-stop, black liners, and dovetailed bolsters.  The nail nick has a firm yet smooth pull, and the blade has that great "snap" that accompanies all of Ray's folders.  The blade lock-up is tight with no play, and the blade sits just about at center.  A great one to drop in your pocket, for a classy evening out carry.  Comes in a felt pouch.
Condition:  Previously owned.  Near mint condition.
                    Never used, carried, or sharpened
Overall length:   6 1/8"

Blade length:     2 5/8"

Closed length:   3 1/2"