R.B. Johnson Stingray and Damascus "Sunfish" Liner Lock Folder (SOLD)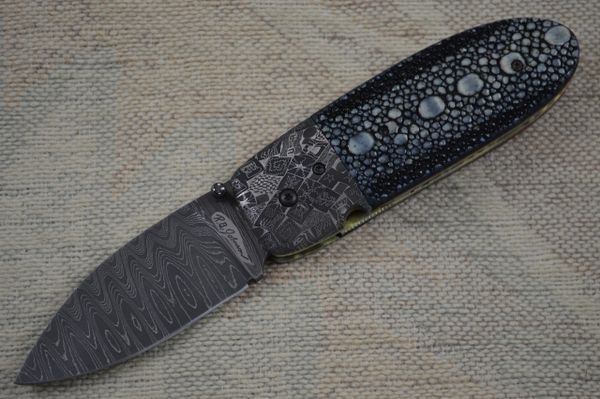 R.B. Johnson Stingray and Damascus "Sunfish" Liner Lock Folder (SOLD)
R.B. Johnson from Clearwater, MN designs and makes some outstanding knives. He describes his designs as clean, functional and organic, with eye appeal in-mind. He is a master at using new and interesting materials. He has been making knives for over 30 years. He is a full time maker, and member of the Knifemakers Guild. He typically does not take custom orders, but rather makes knives that inspire his creativity. His fit and finish, and attention to detail is second to none.
This Sun Fish pattern liner lock knife features a Mike Norris stainless Damascus blade, Ponzio mosaic Damascus bolster, and gold titanium liners. The handle material is beautifully matched center cut Stingray hide, with red spacers. The file work along the back spine is elegant, and compliments the overall look of the knife. And topping off the eye-popping look of the knife is a genuine 2mm black diamond inlaid into the thumb stud. The blade locks up tight with no play, and blade seating is excellent.
Condition:
Previously owned, Mint condition
Never used, carried or sharpened
Overall length: 5 3/4"

Blade length: 2 3/8"

Closed length: 3 1/2"