Red Horse Knife Works CUSTOM CHOPPER, Frag Pattern Frame-Lock Handle, UPGRADES! (SOLD)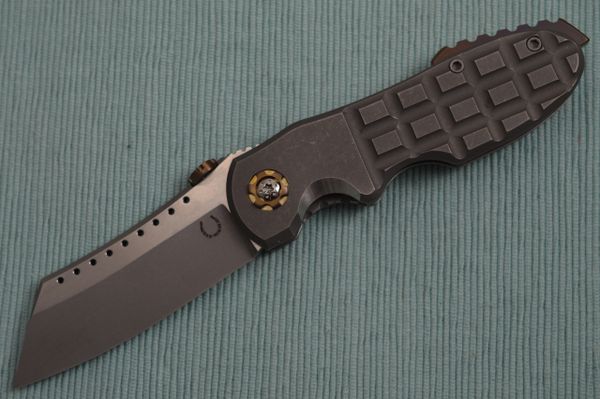 Red Horse Knife Works CUSTOM CHOPPER, Frag Pattern Frame-Lock Handle, UPGRADES! (SOLD)
The Chopper is Red Horse's premier Tactical and EDC frame-lock folding work knife. It was designed to take extensive amounts of abuse. The 3/16" thick all titanium handle is ergonomically designed to be comfortable for every task.
Although this Chopper is one of Ed Kim's Full Customs. The handle is stonewashed titanium, done in a Frag Pattern, and faux bolster. The Wharncliffe-style blade is 3/16" thick D2 tool steel, heat treated to 58RC hardness, with a V ground edge for maximum cutting power. Ed has done the blade with a two-tone finish - stonewashed with smooth flats. The flat part of the blade also has nine (9) holes drilled through it. The knife also features a file-worked, bronze anodized thumb disk, with a matching bronze anodized pivot collar around a custom pivot. The knife has also been upgraded with a 3D (raised) anodized backspacer. It has jimping on the blade spine rear of the thumb disk for better control and feel, and jimping on the lock release bar. As with all of Ed's knives, it runs on bearings. To-date, this is a one-of-a kind Chopper!
Lock-up is rock solid, firm detent, and the blade sits centered in the frame. It comes shipped in a Red Horse Knife Works pouch.
Windy City Knives is privileged to be an authorized dealer for Red Horse Knife Works. We are proud to offer Ed Kim's knives, direct from his shop in Mt. Prospect, Illinois.
Condition: Brand New from the Maker.
• Overall length: 8"
• Blade length: 3 1/2"
• Closed length: 4 1/2"