Red Horse Knife Works Custom Frame-Lock HELL RAZOR, Full Titanium Frame (SOLD)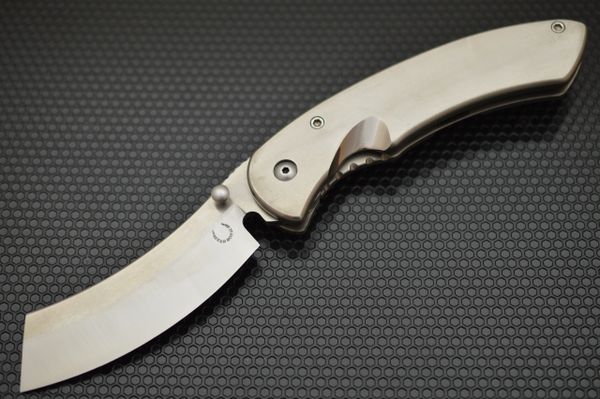 Red Horse Knife Works Custom Frame-Lock HELL RAZOR, Full Titanium Frame (SOLD)
This custom Hell Razor frame-lock is a tactical and EDC folding knife, made by knifemaker, Ed Kim.  The CPM-154 stainless steel blade was hand ground with a hand rubbed finish done by Ed, and heat treated to Rockwell hardness of 59 RC.  The blade is sick, scary sharp.  This knife truly has a "Razor Blade".  If you are familiar with Ed's grinding ability, this knife will not disappoint.  The handle is full titanium with a light orange peel finish.  Ed had hand contoured and mirror polished the thumb ramp, as well as included a larger thumb stud, making it easier and more comfortable to "flick" the blade open with your thumb.  The tip-up mounted titanium pocket clip also has a light orange peel finish.  The knife also features carbidized lock faces, bearing action, precision pivots by Alpha Knife Supply, and a precision stainless steel stand-off.  
The knife has a strong detent, locks up rock solid and the blade sits centered in the frame.  It comes shipped in a Red Horse Knife Works pouch.
Condition:  Previously owned.  Excellent
                  Never used, carried or sharpened
•           Overall length:  8 5/8"
•           Blade length:    3 5/8"
•           Closed length:  5"