Red Horse Knife Works Level 2 Deluxe HELL RAZOR, Hand Rubbed, Zero Ground CPM154 Blade (SOLD)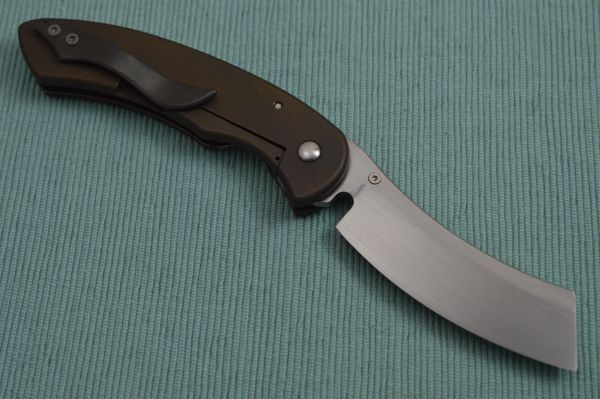 Red Horse Knife Works Level 2 Deluxe HELL RAZOR, Hand Rubbed, Zero Ground CPM154 Blade (SOLD)
The Hell Razor frame-lock is a Tactical and EDC Folding Knife that features the same shape and dimensions of the original Hell Razor.  However, this knife is a "LEVEL 2" Deluxe Hell Razor with two 0.187" thick slabs of titanium, done with a bronze anodized finish.  They are hand contoured with a mirror polished thumb ramp, resulting in a slim, slick and comfortable handle.  The blade is 3/16" thick CPM154 steel, heat treated to 59RC hardness.  Ed has also done a one-off zirconium clip.  This particular blade has been Hand Rubbed with a Zero Ground edge, done by maker Ed Kim.  I watched Ed finish this blade in his shop, and to say that he spent an inordinate amount of time with it is an understatement.  The blade is sick, scary sharp.  This knife truly has a "Razor Blade".  If you are familiar with Ed's grinding ability, this knife will not disappoint.  Ed has only done 1 or 2 other hand rubbed, zero ground blades.  The over-sized thumbstud is custom machined in-house out of 3/8" thick titanium.
The knife also features Carbidized Lock Faces, Bearing Action, Precision Pivots by Alpha Knife Supply, and Precision Stainless Stand Offs.  

Lock-up is rock solid, firm detent, and the blade sits centered in the frame.  It comes shipped in a Red Horse Knife Works pouch.
Windy City Knives is privileged to be an authorized dealer for Red Horse Knife Works.  We are proud to offer Ed Kim's knives, direct from his shop in Mt. Prospect, Illinois.
Condition:  Brand New from the Maker.
•           Overall length:  8 5/8"
•           Blade length:    3 5/8"
•           Closed length:  5"