Red Horse Knife Works One-Off Custom Hawkbill BLACK DEATH CHOPPER Flipper (SOLD)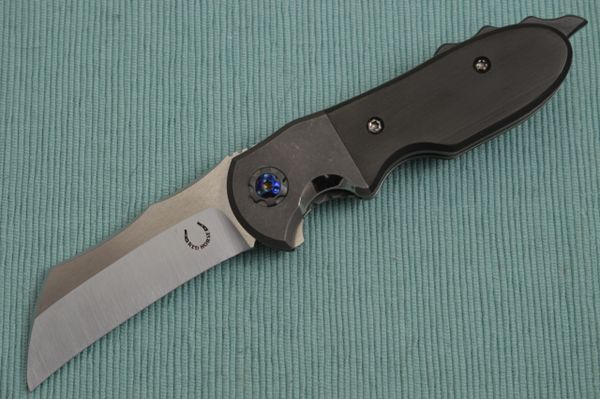 Red Horse Knife Works One-Off Custom Hawkbill BLACK DEATH CHOPPER Flipper (SOLD)
The Chopper model is Red Horse Knives' premier Tactical and EDC frame-lock folding work knife.  It was designed to take extensive amounts of abuse.  This knife is Ed Kim's full custom "Black Death Chopper".  It is a "one-off" version of his wildly popular Black Death series.  This frame-lock folder features a 3/16" thick CTS XHP Hawkbill blade, heat treated to 58RC hardness, with a V ground edge for maximum cutting power.  This is the one and only Black Death Chopper that Ed did with a Hawkbill blade.  It will likely be the only one, as he currently does not have another hawkbill blade.
This Chopper features rarely seen "Pin Stripe Carbon Fiber" scales.  It also has a stonewashed titanium bolster, and zirconium pivot collar, back-spacer, and pocket clip (set for tip up carry).  The pins are diamond cut and polished, and the pivot heads are titanium.  Ed has also polished the choil (thumb ramp), as well as the blade spine and flipper tab.  It has jimping on the rear portion of the blade spine for better control and feel, and filed notches on the lock release bar.  As with all of Ed's knives, it runs on stainless steel bearings.
Lock-up is rock solid, excellent detent, and the blade sits centered in the frame.  Flips beautifully.  It comes shipped in a Red Horse Knife Works pouch.
Windy City Knives is privileged to be an authorized dealer for Red Horse Knife Works.  We are proud to offer Ed Kim's knives, direct from his shop in Mt. Prospect, Illinois.
Condition:  Brand New from the Maker.
•           Overall length:  8 1/4"
•           Blade length:    3 1/4"
•           Closed length:  5"