Red Horse Knife Works THE CHOPPER, Fine Orange Peel Titanium Frame (SOLD)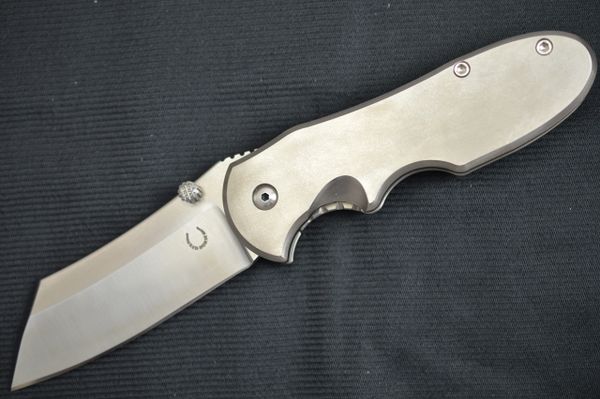 Red Horse Knife Works THE CHOPPER, Fine Orange Peel Titanium Frame (SOLD)
The Chopper is Red Horse's premier Tactical and EDC frame-lock folding work knife.  It was designed to take extensive amounts of abuse.  The 3/16" thick all titanium handle is ergonomically designed to be comfortable for every task.  This knife has had the entire handle finished with a wire wheel, giving the knife a fine orange peel appearance.  The Wharncliffe-style blade is 3/16" thick D2 tool steel, heat treated to 58RC hardness, with a V ground edge for maximum cutting power.  The over-sized thumbstud is custom machined in-house out of 3/8" thick titanium, with filework on all sides, giving better control and feel when opening the blade.
The knife also features Carbidized Lock Faces, Bearing Action, Precision Pivots by Alpha Knife Supply, and Precision Stainless Stand Offs.  

Lock-up is rock solid, and the blade sits centered in the frame.  It comes shipped in a Red Horse Knife Works pouch.
Windy City Knives is privileged to be an authorized dealer for Red Horse Knife Works.  We are proud to offer Ed Kim's knives, direct from his shop in Mt. Prospect, Illinois.
Condition:  Brand New from the Maker.
•           Overall length:  8"
•           Blade length:    3 1/2"
•           Closed length:  4 1/2"