Red Watson Drop Point Hunting Knife, Westinghouse Micarta, Leather Sheath (SOLD)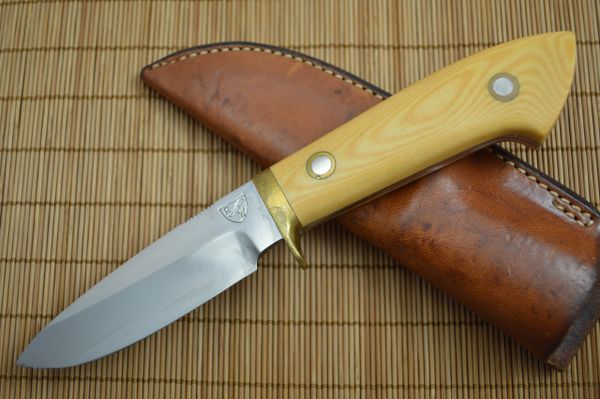 Red Watson Drop Point Hunting Knife, Westinghouse Micarta, Leather Sheath (SOLD)
Red Watson was an early knifemaker.  He was a celebrity of sorts, and always had friends with him.  His passing in 1973 hit many very hard.  Red Watson was known for the friendship he offered, as much as his knives.  In his memory, the Knifemakers' Guild created the Red Watson Friendship Award.  In fact, for many years the Knifemakers' Guild only gave out this one award.  It is presented to the Guild member who best exemplifies the late Watson's giving nature in terms of providing knifemaking instruction and other aid to his fellow makers.  His knives are rarely seen. 

This Red Watson drop point hunter is a rare find today.  Not many of Red's knives show up in the secondary market these days.  It is in excellent, unused condition.  The blade is marked with Red's "RW" maker's mark, and the number "135".  The knife is made of full-tang construction.  There is some mild, spotty staining on both sides of the blade.  We've left the clean-up to the new owner - should they choose.  The handle scales appear to be what we believe is old Westinghouse micarta - at least that's what it looks like - it has aged with a bit of yellow patina.  The single finger guard, and the collars around the stainless pins are brass.  They have dulled and are tarnished, but nothing that a bit of polish wouldn't shine up nicely.  The knife is on consignment from the collection of a prominent member of the American Bladesmith Society (ABS).  He acquired this piece directly from Red (nearly 50 years ago), and it has been in his collection since.  He clearly knows how to care for, and properly store a knife.  He is "thinning" out his collection, and Windy City Knives is honored to have been appointed as his chosen purveyor.

The knife comes with the leather belt pouch sheath, we also believe was made by Red.  It has the number "135" written in pen on the backside.  Red's knives are difficult to find and / or acquire in the secondary market.  This hunter is a beautiful example of his work, and would be as comfortable (and functional) in the field, as it would be in any collection.
Condition: 
  Previously owned. Excellent Condition (as noted above)
                     Never used, carried, or sharpened
Overall length:    7 3/4"
Blade length:      3 1/2"

Handle length:    4 1/4"