Reese Bose Slip-Joint Trapper, Red Jigged Bone Scales (SOLD)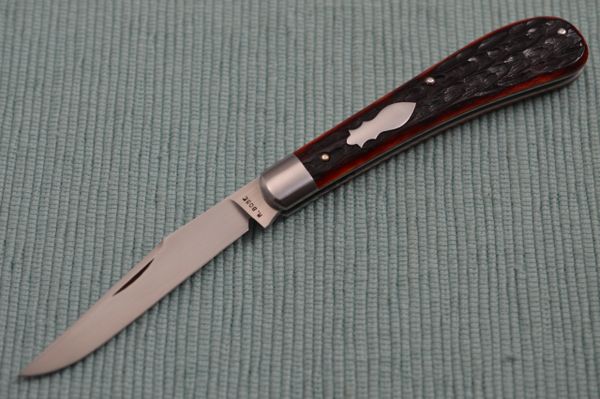 Reese Bose Slip-Joint Trapper, Red Jigged Bone Scales (SOLD)
This is a Reese Bose slip-joint Trapper.  It features a hand-rubbed ATS-34 stainless steel blade, and 416 stainless steel bolster, bombshell shield, pins, backspring, and liners.  The handle is two nicely mated, red jigged bone scales.  The blade is marked "R. Bose" on the ricasso of the presentation side, and "ATS-34" on the other side of the ricasso.  The blade opens and closes smoothly with a nail nick, with nice snap in both directions.  You can barely tell there is a seam between the tang and backspring, in the open position, and the liners are integral to the bolster.  The blade has a half-stop, and is flush in all positions.  And the blade rests centered between the liners when closed.  This one is previously owned, and in mint condition.  The fit and finish and attention to detail on Reese's knives is so much like his father Tony, you can only tell the difference by the "R" or "T" stamped on the ricasso.  Comes in an Arne Mason leather slip pouch, seen in the last photo.

Condition:  Previously owned. Mint condition
                    Never carried, used or sharpened
Overall length:  5 1/2"

Blade length:    2 3/8"

Closed length:  3 1/8"