Reese Weiland, John Fitzen Collaboration, Modified Crossada Titanium Folder (SOLD)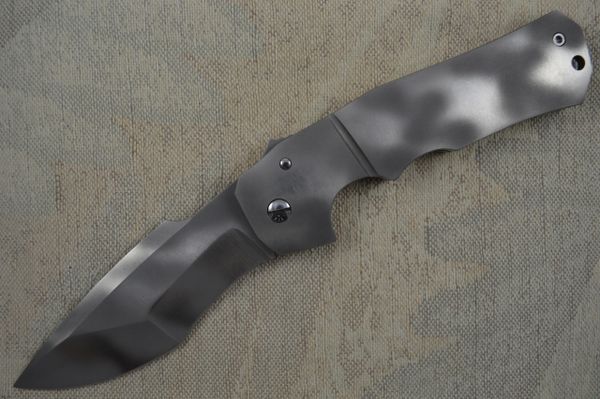 Reese Weiland, John Fitzen Collaboration, Modified Crossada Titanium Folder (SOLD)
In late 2012, Reese Weiland and John Fitzen collaborated on a folding Crossada knife. The Crossada Fighting Knife was designed by Master At Arms, James Albert Keating, a world renowned expert in the use of defensive edged weapons. The Crossada was essentially a Bowie knife, with "hooks" for the guard, and designed to catch your "opponents" blade in a knife fight. The Crossada folder collaboration knives were designed by John, and handmade and hand ground by Reese. There were a limited number of these made - we believe only 20 were handmade. They were massive folders, that functioned like a fixed blade when opened.

Some of these knives made by John had top-and-bottom crossadas, and some had a bottom crossada only. This particular knife is a one-off modification of their folding Crossada, having no crossadas. Reese made this beast a bit more manageable to handle, by not having the width of the crossadas at the top of the handle. However, it still opens the same way with the "lever" action, designed to press down against your body to open the blade...watch here...
John Fitzen Crossada
.
The knife's blade is made from S35VN steel, and the handle is 6AL4V titanium. John describes the pattern on the blade and handle as urban stripe. Reese's tri-grind on the blade is outstanding. The knife is marked "011". The frame-lock locks up rock solid with no blade play, the blade opens and closes amazing smooth for such a big folder, and the blade is centered perfectly in the handle. It's the "clunk" that gets you when you open and close it. This knife was previously owned, and extremely well cared for. There are only a couple of the faintest handling marks on the handle that you really have to look for to see - not uncommon with titanium scales. If you are a fan of big folders, this is the one. And not to mention, it is super rare and hard to find. It will come with a padded zippered case when shipped.
Condition:
Previously owned, Near Mint Condition (as described)
Never used, carried or sharpened
Overall length: 11 1/2"

Blade length: 5"

Closed length: 6 1/2"
Weight: 12.9 ounces (365 grams)