Reese Weiland XL Trigger Karambit (TRADED)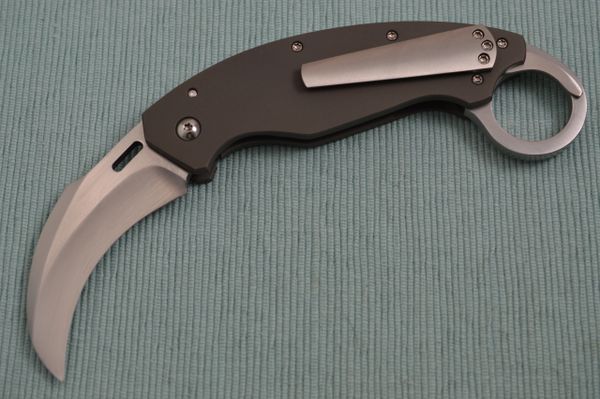 Reese Weiland XL Trigger Karambit (TRADED)
This is Reese Weiland's XL variant of his Trigger Karambit.  Reese's Karambits were originally made and sold to the Japanese market.  They were a smaller version of the "XL".  The Trigger Karambit is NOT an automatic.  The trigger acts like a "lever".  The action of the lever, along with the perfectly balanced pivot, assists in the opening of the blade.  There's no springs, and the blade fires strong just by pulling on the trigger as you remove the knife from your pocket.  The blade can be opened manually using the oval thumb hole - but why would you use it?  Pulling the trigger is so much more fun!
The knife features Reese's signature anodized orange peel titanium frame, with an overtravel stop pin on the lock bar side, and an aggressive hawkbill ground, hand rubbed CPM154 stainless steel blade, with a nice long swedge.  The stainless steel hardware and backspacer / ring have been polished.  And the custom clip is sculpted titanium.
The action is perfect.  The blade sits dead center in the frame, locks up vault tight, and has zero lock stick.  It comes in padded felt pouch.
Condition:
  Previously owned. Mint condition
                    Never carried, used or sharpened

Overall length:  7 1/2"

Blade length:    3"

Closed length:  5 1/2" (including the ring)