Rick Barrett Large Custom "Fallout" Flipper Folding Knife, Hamon, Zirconium Clip (SOLD)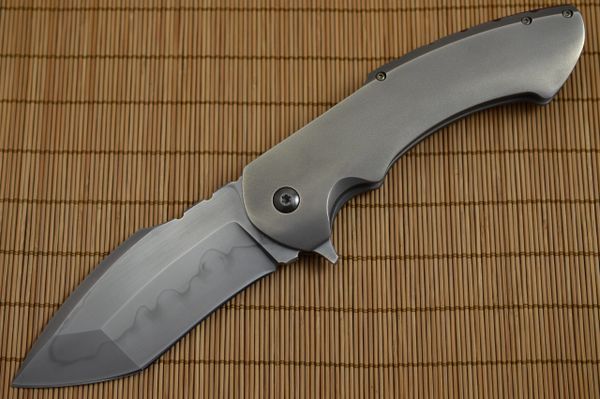 Rick Barrett Large Custom "Fallout" Flipper Folding Knife, Hamon, Zirconium Clip (SOLD)
This is Rick Barrett's Large Custom "FALLOUT" frame-lock, flipper folding knife.  According to recent information from Rick, he has "semi-retired" this model, and this knife is one of the last ones.  The multi-ground blade is 1095 steel, with Rick's outstanding signature Hamon - nicely done, and very visible.  There are three (3) aggressive cutouts on the blade spine for your thumb, for better feel and control of the knife.  The frame is all titanium, and Rick has done an superior eggshell finish throughout.  The pocket clip and pivot pin are both Zirconium.  And the backspacer is anodized titanium.  The other hardware is stainless steel heat colored to blend and accent.
All of the work on this knife was done by hand, including the grinding, sculpting, file-work, fitting, etc.  The blade flips effortlessly, locks up tight as a drum, falls dead center in the frame when closed, and no lock-stick.
This knife is brand new, from Rick's shop.  Windy City Knives is privileged to work directly with Rick, as one of his authorized dealers.
Condition: 
  New from the Maker                     
Overall length:    9 3/4"
Blade length:      4"

Handle length:    5 3/4"