Rick Barrett "Skulltap" Hawkbill Fixed Blade Knife, OD Green, Kydex Sheath Tek-Lok (SOLD)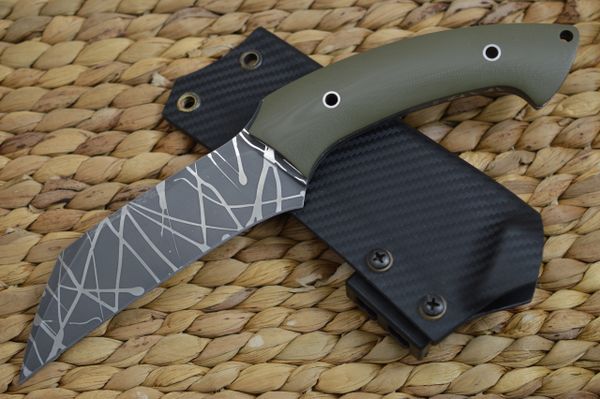 Rick Barrett "Skulltap" Hawkbill Fixed Blade Knife, OD Green, Kydex Sheath Tek-Lok (SOLD)
This is Rick Barrett's "Skulltap" fixed blade knife.  This is one of Rick's coolest fixed blades.  He doesn't make too many fixed blade Skulltaps.  The handle just melts in the palm of your hand - even in a reverse grip!  The hawkbill-shaped blade steel is CPM30V.  Rick describes how he did the finish on the blade as "enamel resistant, ferric etch, and then a light rub down".  We have to say, the finish is truly outstanding.  With the full tang, the etching is visible wherever you see exposed blade steel.  The handle scales are OD Green G10.  There is a lanyard hole at the pommel.  The pins are stainless steel "tubes" - you can see through them.  Rick has included a Kydex sheath with the knife, with a Tek-Lok belt attachment.
This knife is brand new, from Rick's shop.  Windy City Knives is privileged to work directly with Rick, as one of his authorized dealers.
Condition: 
  New from the Maker                     
Overall length:    9 1/2"
Blade length:      4 3/4"

Handle length:    4 3/4"