Rick Hinderer 3.5" XM-18 Hand Ground Gen 2 Flipper Folding Knife (SOLD)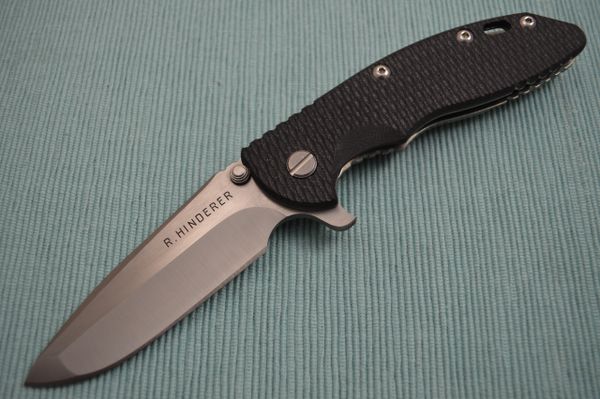 Rick Hinderer 3.5" XM-18 Hand Ground Gen 2 Flipper Folding Knife (SOLD)
Rick Hinderer started making knives in the mid 80's.  At that time they were art knives.  Today, Rick is synonymous with tactical knives, and all his knives are highly coveted by both users and collectors.  His attention to knife design and knife making, coupled with his real world experience as a Fire Fighter / EMT makes him uniquely qualified to create some of the most in-demand knives on the market today.  His first responder experience drives the design and functionality of all his work.  His tactical folders are not only aesthetically pleasing to the eye, but extremely comfortable in-hand and bottom-line functional.  His knives are built to do the job when it counts.

This XM-18 frame-lock flipper is from Rick's table lottery at the 2008 Blade Show in Atlanta, GA.  It is a Gen 2, highly sought after by collectors.  It features a Duratech 20CV steel blade, hand ground by Rick, with "R. HINDERER" engraved on the blade flat.  The handle is black G10, reinforced with a full titanium liner.  It also features Rick's signature "Hinderer" lockbar stabilizer, and a titanium clip that allows for tip up or tip down carry.  The blade flips easily, locks up tight with no play, and falls dead center when closed.  I have owned this knife since new.  It is in mint condition.  Comes in a padded, zippered case.  Own a little piece of Hinderer history.  

Condition: From my personal collection. Mint!
                   Never used, carried, or sharpened.

Overall length:  8 1/4"
Blade length:    3 1/2"
Closed length:  4 3/4"