RJ Martin DEVASTATOR, Blade Show 2014 Lottery, Damascus Blade and Titanium Frame Lock Folder (SOLD)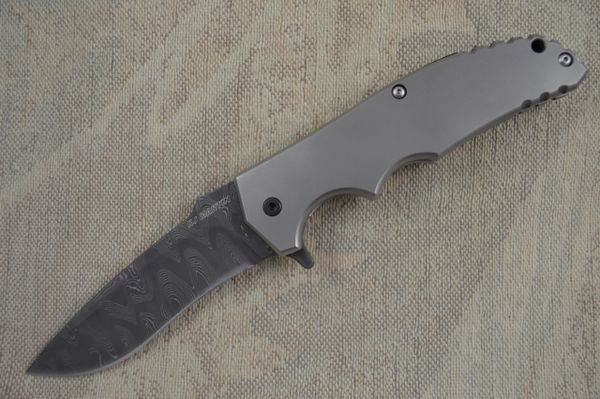 RJ Martin DEVASTATOR, Blade Show 2014 Lottery, Damascus Blade and Titanium Frame Lock Folder (SOLD)
Direct from RJ Martin's Lottery at the Blade Show 2014 in Atlanta.  An impossible to get Grail Knife - the DEVASTATOR - with Chad Nichols Stainless Damascus Blade made from CTS BD30P Steel (Rockwell Hardness, RC 61), Titanium Frames and Titanium Clip.  The blade fires like rocket and is silky smooth.  The lock-up is rock solid, and the blade is centered in the frame-lock handle.  The knife features RJ's new back-spacer design.  The rear of the back-spacer is slightly raised, and dives into the handle as it moves forward.  This was done so that the handle has a more "tactile" or "grippy" feel, particularly when held in reverse grip in knife combat.  The knife comes with the pictured skull-themed Bill's Custom Case that RJ included with the knife at the Lottery.  An awesome and hard-to-find folder for any collector.
Condition: 
New From Maker
Overall length:    9 1/2"

Blade length:      4 1/2"

Closed length:    5 1/4"