RJ Martin UBERSTATOR, Open Pivot "Pivotless" Flipper (SOLD)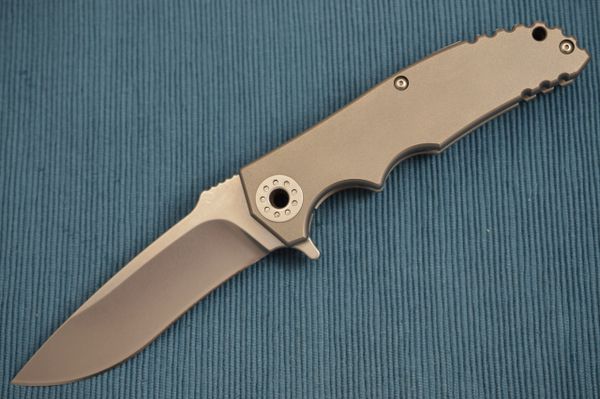 RJ Martin UBERSTATOR, Open Pivot "Pivotless" Flipper (SOLD)
This is a RJ Martin UBERSTATOR, an "uber-sized" version of his Devastator model.  It features RJ's new "Pivotless Pivot" bearing system, which won him the "Most Innovative Design" award at the 2014 Blade Show.  Features of the new Pivotless Pivot system are large diameter hardened stainless steel precision bearings that eliminate wear, enhance stability, and provide increased strength.  Precision is improved as the bearings actually screw into the knife's frame  It is the only pivot system that is adjustable, with the cool visual of a hole through the pivot, giving the illusion of a knife with "no pivot" - hence the "Pivotless Pivot".  In addition to the new pivot system, this knife features a double-thick, hollow ground recurve blade made of one of Carpenter's new super steels, PSF27, which was designed to balance wear resistance and toughness.  The knife's "traction grooves" on the top rear of the handle make for a positive grip.  It also features jimping on the blade spine, a lanyard hole, and a beautifully executed C-Tek back spacer.  The tip-up pocket clip is 3D DLC blacked stippled titanium.  This knife also features both the "R.J. Martin" & "MCM" Company Logos, incorporating R.J's son Matthew Martin into the business.  Matthew designs and builds a great line of pens (
Tactical Pens
).
In spite of the size of this beauty, it exhibits exceptional action, perfect lock-up, dead centered blade, and an easy lock release.  There is the slightest evidence of lock bar release "click" - I will NOT call it "stick" - nor does RJ.  I spoke to RJ, and according to him it was designed this way.  Unlike your typical single point of contact where the end of the blade tang meets the lock bar, his blade / tang geometry has two (2) points of contact.  And as a result of this design, the lock bar gives you positive feedback that it is secure, and the travel on the lock bar will not change throughout the useful life of the knife.
RJ sells his knives via lottery at the shows he attends, and we haven't seen any of the Uberstator models come up for sale for quite some time.  When they do, they sell quick!  We were told that he only made six (6) of these between 2014 and 2016.  This is the holy grail you've been searching for!  RJ's most coveted and most wanted flipper.  Get this difficult to find model from a hot maker while you have the chance!
It will come in a padded, zippered case.
Condition: 
Previously owned.  Mint!
                    Never used, carried or sharpened.
Overall length:        9 3/4"

Blade length:          4 1/2"

Closed length:        5 1/4"

Weight:                  12.2 ounces
Blade thickness:     0.315"
Handle thickness:   0.830"