Rockstead RYO-H-ZDP, Button-Lock Folding Knife (SOLD)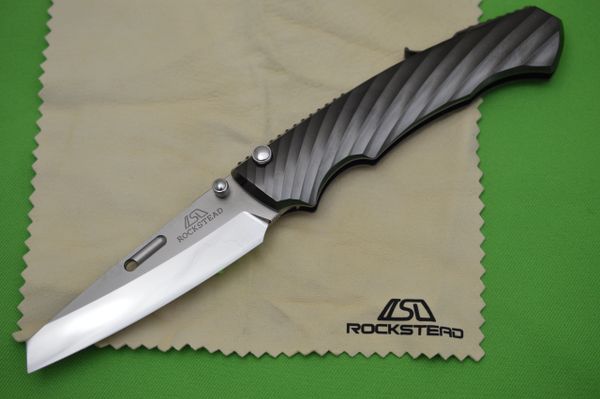 Rockstead RYO-H-ZDP, Button-Lock Folding Knife (SOLD)
The RYO-H is one of the newest models in the Rockstead line-up.  Rockstead makes some of the highest quality knives in the world.  They command a premium price due to their high-end materials and superior construction.  The RYO-H button-lock folder features a polished DLC coated Titanium handle.  The blade outline is Higonokami, which represents knife in Japan.  And the blade shape is Honzukuri, convex ground on both sides in the tradition of Japanese swords.  It is made from ZDP-189 steel, with a highly polished finish and a Rockwell hardness of around 67 HRC.  The blade goes through a multi-step process of hand finishing using wet-dry sandpaper from 400 to 2000 grit.  The blade is incredibly sharp.  One of best features of the RYO is the concealed pocket clip, which is "hidden" in the top of the handle, at the back of the knife.  It is designed for comfort, so that you don't feel the clip when gripping the handle, like you do with traditionally mounted clips.  There is also a convenient lanyard hole built into the handle.
The blade opens smooth as silk, locks up vault tight, sits perfectly centered between the liners, and releases easily.  The knife is previously owned, and in as mint condition.  There is no packaging or paperwork included with the knife.  Only the pictured Rockstead polishing cloth.  It will also come in a padded zippered pouch. 

Condition:   Previously owned.  Mint.
                   Never used, carried or sharpened
Overall length:  7 3/4"
Blade length:    3 1/4"
Closed length:  4 1/2"