Roger Bergh Fossilized Handle and Damascus Hunting Knife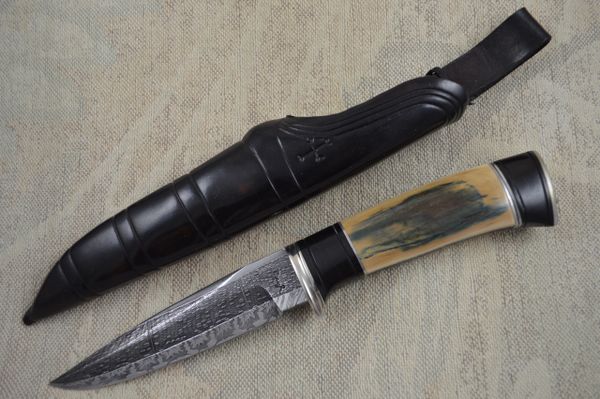 Roger Bergh Fossilized Handle and Damascus Hunting Knife
Roger Bergh started his knifemaking career working with leather in 1969.  By 1973 he was making knife handles.  And by 1995 after 15 years as a part-time knifemaker he started forging his own Damascus steel under the supervision and training of Conny Persson.  He never realized that leatherwork would lead him to where he is today - one of the top knifemakers in the world.  Most of his knives are collectible, all-purpose straight knives - yet extremely functional.  Each knife is one-of-a-kind, and is made from beautiful organic materials.  The materials are used as they were shaped by nature, to create a knife that feels right in your hand.  His hand-forged Damascus is among the finest available.
This gorgeous trailing point hunter is an absolute testament to Roger's abilities and talent.  This Mosaic Damascus blade is made of high carbon spring steel, 15N20 and 20C Swedish Sandvik.  The handle is fossilized natural material, surrounded by Bog Oak above and below, as well as sandwiched along the top and bottom of the handle.  The guard and fittings are nickel silver.  The sheath is also made by Roger - uniquely designed to grasp and lock the knife in the sheath by the guard - you can almost hear it "click" when it is inserted.  There are some very fine lines on the guard due to this feature.
Condition:  Previously owned. Excellent
                    Never used, carried, or sharpened
Overall length: 10 1/4"
Blade length:     5 1/4"