Roger Green African Blackwood Bowie, Leather & Silver Sheath (SOLD)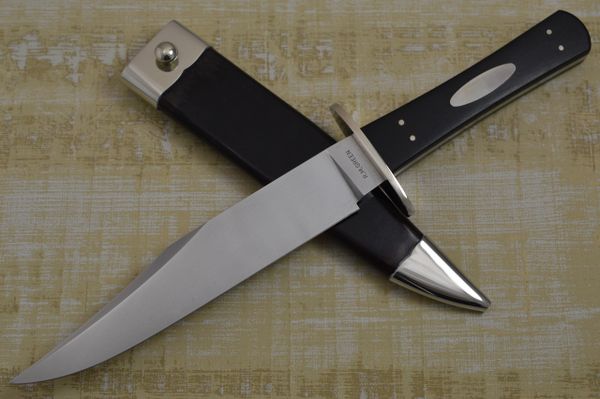 Roger Green African Blackwood Bowie, Leather & Silver Sheath (SOLD)
This is a rare and collectible Roger Green Guadalupe Bowie.  If you are not familiar with Roger, he was a student of knife making legend D.E. Henry.  Roger inherited all of Henry's blade patterns.  Clearly, D.E. thought highly enough of Roger, to allow him to carry on with his work.  If you know Henry's knives, you can see the similarities in this knife.  Roger stopped making knives sometime in the 1990's, and has only recently returned to knifemaking.  His work was, and is quite desirable.  Our understanding is that Henry was the bladesmith who introduced the classic English Bowie blade design back into the American market, which was and still is used by many great knifemakers.  Roger's fit and finish are second to none.
The previous "one owner" purchased this knife directly from Roger at Guild Show in the early 1990's.  The full-tang hand rubbed blade is 440C stainless steel.  The handle is two (2) African Blackwood scales.  The double lug guard is nickel silver, as are the oval shields on both sides of the handle, as well as the pins.  The frog button concealment sheath was also made by Roger.  The leather is dyed black, and does have some handling marks.  It is lined, and has a nickel silver throat and tip.  The nickel silver on the fittings and the sheath have some very fine micro scratches from age and handling.  They only show up at angles, in certain lighting.  They do not show up in the photographs.  Otherwise, it is in excellent, unused condition.  Roger marked the ricasso with "R.M. Green" on one side, and the number "2" on the other.  We believe this knife to be the 2nd knife of this particular Bowie type, that Roger made.  The knife and sheath will also come in a padded zippered case.  This is a great example of Roger's work.  This one won't hang around long!
Condition: 
Previously owned, Excellent.
                    Never carried, used or sharpened
Overall length:      10"

Blade length:         6"
Handle length:       4"